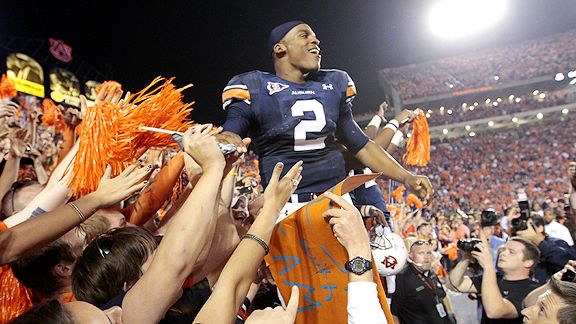 AP Photo/Dave Martin
Cam Newton hopes to be celebrating a Heisman Trophy win on Saturday night
Is winning the Heisman Trophy a championship curse?
If favored Auburn quarterback Cam Newton or Oregon running back LaMichael James wins, it will be the ninth time in 11 years that the Heisman winner has played in the BCS National Championship Game. Though Mark Ingram won both a Heisman and a BCS title last season, Heisman winners are just 2-6 in BCS Championship Games.
Newton is expected to win and do so in lopsided fashion. But let's give equal billing to the other candidates and look at five other noteworthy nuggets tied to college football's most prestigious award.
1. The four finalists are James (a sophomore), Newton (a junior), Stanford sophomore quarterback Andrew Luck, and Boise State junior quarterback Kellen Moore, marking the first time in Heisman history (since 1935) that there hasn't been a senior among the top four finishers.
2. Those four finalists led their teams to a combined record of 47-2. That's the second-best cumulative team winning percentage for the top four vote-getters in Heisman history. In 2004, the top four finishers (Matt Leinart, Adrian Peterson, Jason White and Alex Smith) came from three undefeated teams.
3. This is the 76th Heisman Trophy. No freshman or sophomore won it the first 72 years it was awarded. Last year, Mark Ingram became the third straight sophomore to win it, following Tim Tebow in 2007 and Sam Bradford in 2008. James or Luck could make it four straight years with a sophomore winner.
4. Newton won both the Maxwell Award and the Walter Camp Award, but neither of those two awards have been predictors of Heisman voting in recent years. Only one of the previous 10 Maxwell Award winners also won the Heisman Trophy (Tebow in 2007), and just four of the last 10 players to win the Walter Camp Award took home the Heisman later that weekend (Eric Crouch, Matt Leinart, since-vacated Reggie Bush, and Alex Smith). Colt McCoy won both of those awards last year and finished third in the Heisman race.
5. This is the first time since 2003 that none of the top four vote-getters were among the previous year's top four finishers.