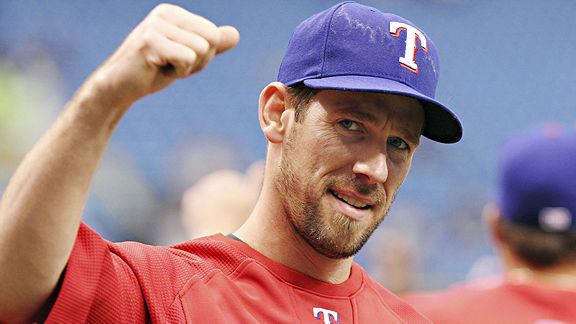 Kim Klement/US Presswire
Cliff Lee had a lot to be excited about in 2010. Now he has a lot on his mind as he ponders his fate.
What could Cliff Lee be thinking about as he takes the weekend to ponder whether he'll be a member of the Texas Rangers or New York Yankees for the next six to seven seasons?
Could a look at potential opponents play any sort of role? If it does, the Rangers would be favored on the surface. Consider these numbers:
For his career, Lee is 14-15 with a 3.60 ERA in 39 regular season starts against the Yankees' AL East rivals-- the Toronto Blue Jays, Baltimore Orioles, Tampa Bay Rays and Boston Red Sox. He's 22-8 with a 2.85 ERA in 37 starts against the Rangers' Al West rivals-- the Los Angeles Angels, Oakland Athletics and Seattle Mariners.
Keep in mind that if Lee stays in the AL West, he'd probably be making 10 to 12 starts against teams who finished 19th (Angels), 23rd (Athletics), and 30th (Mariners) in the majors in runs scored last season. If he jumps to the AL East, he's staring at three teams who were ranked in the top nine in the majors in runs scored.
There are counterpoints to this, of course. Lee beat the Rays twice in the 2010 postseason, with a masterful performance in Game 5 of the ALDS. And in his last two starts against the Red Sox, he's 2-0 with a 1.06 ERA. And when he came to the Rangers, Lee had a period of struggles, though those could partly be attributed to his back injury.
But moving beyond the numbers, consider the offseasons for the teams in their respective divisions. Though the Rays lost several significant offensive pieces in Carlos Pena, Jason Bartlett and Carl Crawford, they have inexpensive replacements lined up. Toronto, other than losing John Buck (who happened to crush Lee during his career), has stayed status quo. The Red Sox added Adrian Gonzalez and Crawford to replace Victor Martinez and Adrian Beltre, and the Orioles, who were 27th in runs scored last season, boosted the left side of their infield with Mark Reynolds and J.J. Hardy.
Gonzalez is noteworthy in this regard. He's 7-for-10 for his career against Lee (by contrast, Crawford is 7-for-29 with no walks).
Both are significant additions and by comparison, the AL West has done little to load up to pose a threat to the Rangers. The Angels haven't added a notable bat yet (though free agent Beltre may be in the mix). The Athletics top acquisition this offseason is David DeJesus. The Mariners, who play in the most pitcher-friendly stadium in the AL in Safeco Field don't exactly scare anyone with the pickups of Miguel Olivo and Jack Cust.
Contract length and money usually seem to be the deciding factors for free agents, but when the numbers get this big and the differences between the offers aren't huge, this seems to be one of those secondary factors that can't be ignored.