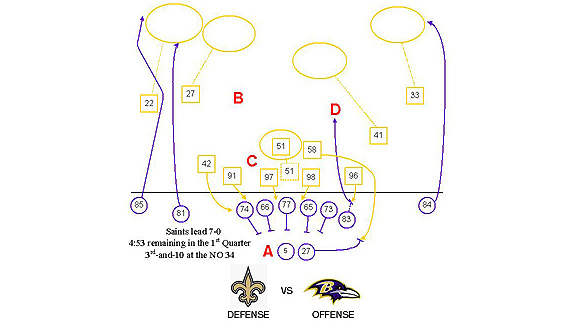 This week's edition of Chalkboard Stats focuses on an important play in the Baltimore Ravens win over the New Orleans Saints on Sunday. Tight end Ed Dickson's first career touchdown reception tied the score in the first quarter, the first of three straight touchdowns scored by Baltimore in an eventual 30-24 victory. This play was also TMQ's Sweet 'N' Sour Play of the week.
Using the diagram above, let's take a closer look at the play and the accompanying statistical analysis.
A) Joe Flacco takes the snap out of shotgun on 3rd-and-10
This isn't surprising as 82.6 percent of all snaps on 3rd-and-10 or longer have been taken out of the shotgun this season. What might surprise you are Flacco's numbers this season in this type of situation: one touchdown, three interceptions and a 58.6 passer rating.
While that stat line appears dismal at first glance, take this into consideration: Flacco is actually in great company, as Tom Brady (55.7), Mark Sanchez (34.2) and Eli Manning (31.3) each have worse passer ratings this season in that situation.
B) The Saints line up in their nickel package
New Orleans employed an extra defensive back on third down 46.2 percent of the time entering Sunday -- the fourth-highest mark in the league.
The Saints have allowed only 6.5 yards per pass attempt when they've had five or more defensive backs on the field this season (an ideal number when the offense faces third-and-10). Flacco entered the game with a 109.3 passer rating against base 3-4 and 4-3 defenses (2nd-highest in the NFL, minimum 150 attempts), but only an 81.3 rating when the defense subs in extra defensive backs (16th in the NFL).
C) Gregg Williams sends six pass rushers
Through the first 13 games Saints defensive coordinator Gregg Williams ordered added pass pressure 50.4 percent of the time, by far the highest percentage in the league (ultra-aggressive Rex Ryan's Jets ranked second at 44.7 percent).
Williams and the Saints had seen good results when sending five or more pass rushers, as they entered the game ranked in the NFL's top five in opponents' completion percentage (50.7), sacks (20) and interceptions (6).
D) Dickson gets lost in the shuffle
Dickson (#83) chips defensive end Alex Brown (#96), then releases five yards downfield. The Baltimore Ravens' three wide receivers all ran deep routes, taking four of the five defensive backs with them (the other, #42 Darren Sharper, was a part of the pass rush). The three-receiver set plays to Flacco's advantage, as only 17.1 percent of his pass attempts in that personnel grouping have been targeted toward tight ends, causing Dickson to look more like a decoy than a threat.