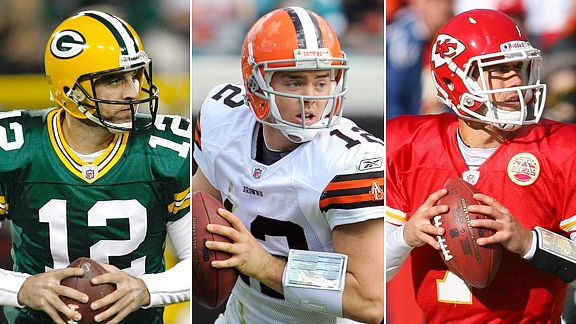 Getty Images
Aaron Rodgers (left), Colt McCoy (center) and Matt Cassel (right) each have strengths that should put their teams into a favorable position on Sunday afternoon.
Our weekly look at quarterbacks who are under the center of attention.
AARON RODGERS
Green Bay Packers quarterback Aaron Rodgers enters Sunday's game with the New York Giants tied for the NFL lead in touchdown passes when facing five-or-more pass rushers, with 13 (coincidentally, the other quarterback with 13 is his opponent, Eli Manning).
Highest Completion Pct
Passing vs 5-or-more rushers
Rodgers, returning from a concussion that caused him to miss Sunday's game against the Patriots, is more effective than Manning when it comes to dealing with the blitz. He's the fourth-most accurate passer against the blitz in the NFL at 64.3 percent. His 109.2 passer rating against five-or-more rushers trails only Tony Romo and Tom Brady.
Rodgers will have an opportunity to expand on those totals this week. The Giants rush five-or-more defenders on 37.7 percent of opponent dropbacks, the ninth-most aggressive team in the NFL. They'll pose a tough challenge for Rodgers, as they have held opponents to a 69.6 passer rating when blitzing, fifth-best in the NFL.
COLT MCCOY
Colt McCoy will play a big role in determining whether the Baltimore Ravens or Pittsburgh Steelers win the AFC North, since his Cleveland Browns will host both squads in the final two weeks of the season.
McCoy's accuracy, particularly considering he's a rookie, has been his most impressive trait. He ranks seventh in the NFL in completion percentage (minimum 150 attempts) at 65.8 percent and 10th best in interception rate at 2.0 percent. After throwing two interceptions in his NFL debut against the Steelers, McCoy has thrown just one in 119 attempts in his last five games.
Where McCoy has excelled within a small sample is at the intermediate-length pass. On throws that went from 11-to-20 yards in the air, McCoy is 27-for-37, with a pair of touchdown passes and no interceptions. His 133.0 passer rating is the best in the NFL.
Last week, McCoy was 5-for-6 for 97 yards with a first-quarter touchdown pass to Robert Royal (his passer rating was a perfect 158.3) on throws that long.
Both the Ravens and Steelers have had issues covering that type of throw. The Ravens rate about league-average in both opponents completion percentage and passer rating.
The Ravens issues have been more recent. In the last three weeks, Baltimore's defense has allowed opponents to complete 51.6 percent of intermediate-length passes, but the 16 completions have gone for 302 yards and two touchdowns. That matches the number of touchdowns they allowed on such passes in the first 11 games of the season.
The Steelers rank 31st (next-to-last) and 26th in those stats, but McCoy won't get a chance at them until next week.
-- Mark Simon
MATT CASSEL
If the Chiefs hope to finish strong, it'll be up to Matt Cassel make sure that they're not too one-dimensional.
Entering Week 16, the Chiefs rushing attack faced a "loaded box" (meaning a situation in which the defense has more players around the line of scrimmage than the offense has blockers) 82 times, a league-high.
But in Cassel, the Chiefs have one of the best play-action quarterbacks in the league, allowing them to counter that.
Among quarterbacks that have attempted at least 40 play-action passes, Cassel's 126.7 passer rating in those situations is third-best in the league, behind only Tom Brady (141.5) and Carson Palmer (134.8).
It becomes increasingly important considering that the Chiefs' next opponent, the Tennessee Titans, has loaded the box on 98 of its opponent's attempts this season, second-most in the NFL.
-- Alvin Anol