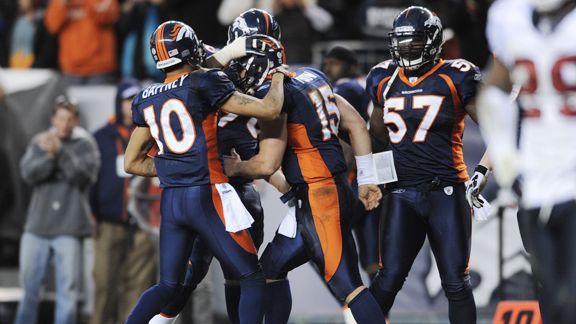 AP Photo/Jack Dempsey
Tim Tebow got kudos for his performance on Sunday. But was he worthy of such recognition?
Our weekly look at stats and notes from the "other" side of the ball.
Amid any sort of rush to declare Tim Tebow the Denver Broncos quarterback of the future, following his impressive Week 16 performance, the quality (or lack thereof) of the defense he faced may have been forgotten.
Tebow may in fact turn out to be worthy of the first-round pick he was selected with last April, but those calling him the next John Elway would be wise to note that his breakout performance came against a Houston Texans defense that is on pace to allow more passing yards than any team in NFL history, other than the 1995 Atlanta Falcons.
Tebow completed just 16 of his 29 passes vs the Texans, the second-lowest completion percentage of any QB against Houston this season behind a much less-heralded rookie, Tennessee Titans third-stringer Rusty Smith.
Whether or not Tebow develops into the Broncos' answer under center will depend in large part on his ability to improve his accuracy. He's completing just 56 percent of his passes 10 or fewer yards downfield this season, well below the league average of 67.8 percent on such throws.
Of the 54 quarterbacks who have thrown at least 25 passes of that length in 2010, Tebow's completion percentage ranks 51st.
Winfield shuts down Vick, Eagles

WinfieldThe Minnesota Vikings were able to mostly shut down the NFL's top-ranked offense Tuesday night by putting steady pressure on Michael Vick, sacking him a season-high six times for 39 yards. Minnesota brought blitzers from every angle and every position, spreading out their six sacks among two defensive ends (Jared Allen and Ray Edwards), a defensive tackle (Letroy Guion), a safety (Jamarca Sanford) and a cornerback (Antoine Winfield).
Winfield was especially effective coming off the edge, registering his first two sacks of the season and forcing a fumble that he returned 45 yards for a game-changing touchdown. He is just the second player this season to record multiple sacks and a fumble return touchdown in the same game, joining Lions defensive tackle Ndamukong Suh (Week 8 vs Washington Redskins).
To find the last time a defensive back had such a game, you have to go back more than 10 years. Tampa Bay Buccaneers cornerback Ronde Barber registered two-and-a-half sacks and returned a fumble 24 yards for a score in a 41-0 blowout of the Chicago Bears in Week 2 of the 2000 season.
Does anyone want the interceptions title?
Most Interceptions
Since Midpoint of Season
With just one week left in the regular season, the league's interception rate is down about four percent from last year. But the interception leader's total is unusually low.
Philadelphia Eagles cornerback Asante Samuel is poised to win the NFL's interceptions title, despite having only two picks since the first week of November. Since the season's midpoint, 15 players have more picks than he does.
If Samuel fails to add to his total of seven on Sunday, and no one passes him at the top of the leaderboard (eight players are tied for second with six each), it will be the first time since 1999 that the league's interceptions leader finished the season with seven or fewer interceptions.
That year, five players finished tied with seven interceptions each. The 1999 season is the only non-strike season when no player reached at least eight interceptions since the AFL's inaugural season in 1960.