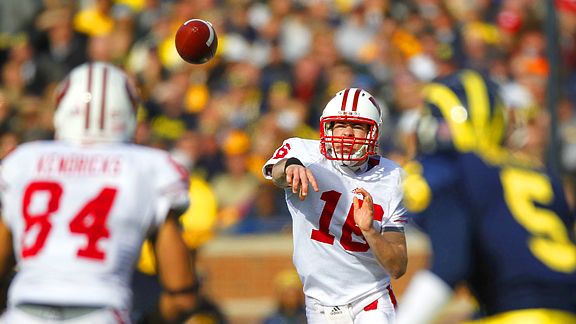 Gregory Shamus/Getty Images
Scott Tolzien's effectiveness throwing the ball downfield against TCU figures to play a significant role in Wisconsin's hopes of winning the Rose Bowl.
Statistically speaking, TCU has the best defense in college football, leading the nation in scoring defense (11.4 points-per-game) and total defense (215.4 yards-per-game). But the Horned Frogs have not faced an offense quite like the one they'll see from Wisconsin in the Rose Bowl on Saturday (ESPN, 5 ET).
We're not just referring to one of the best running attacks in the nation (James White, John Clay, and Montee Ball have each rushed for over 800 yards and 13 touchdowns this season), but also to senior quarterback Scott Tolzien.
Scott Tolzien This Season
Passes 15 or More Yards Downfield
ESPN.com writer K.C. Joyner expressed skepticism about Tolzien's chances earlier this week. But he has a few things going for him.
Tolzien's leadership and poise are apparent in the red zone, where he has completed 84.8 percent of his passes for 15 touchdowns, only one interception, and a passer rating of 294.0, which is tops among all FBS quarterbacks.
In order to slow Wisconsin's explosive offensive unit, the Horned Frogs will first and foremost have to stop Wisconsin's running backs by stacking the box with defenders and controlling the line of scrimmage.
Nonetheless, if Wisconsin wants to exploit a TCU secondary that is focused on stopping the run, Tolzien must look to connect with his receivers downfield to set the Badgers up inside the 20 yard-line.
This strategy seems sound, but Tolzien is not known for his downfield passing. In fact, until Wisconsin's 12th and final game of the season, Tolzien did not have a touchdown pass longer than 14 yards. To put that into perspective, Boise State quarterback Kellen Moore had 23 touchdown passes of 15 yards or more through his first eleven games.
However, in the final three weeks of play, Tolzien increased his downfield passing efficiency, completing 81.3 percent of his passes that traveled 15 yards in the air. That significantly opened up the ground game for the Badgers. In its final three games, Wisconsin averaged 124 more yards rushing yards and two more rushing touchdowns per game as it beat Indiana, Michigan, and Northwestern by an average margin of 43.3 points per game.
Fewest 15-Yard Passes Allowed
FBS Teams, Regular Season
TCU has a much stronger defense than the teams that Wisconsin faced in those final three weeks but Tolzien's ability to continue this downfield success may be the biggest key to this game.
If TCU focuses its efforts on stopping the run, Tolzien's only choice will be to look downfield, and then hope that the running game eventually opens up. This will not be an easy feat against a TCU defense that gave up the fewest completions of 15 yards or more this season, and also happened to rank best in the nation in fewest passing yards allowed per game (126.3) and per attempt (5.0).