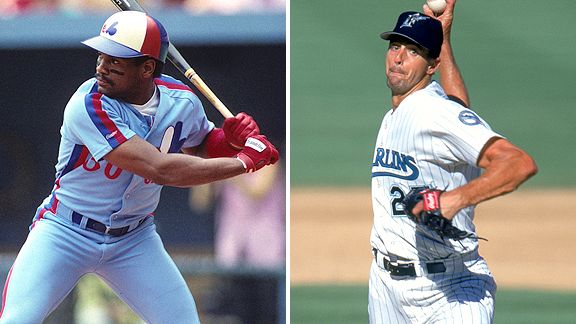 Getty Images
A closer look at the numbers shows that Tim Raines and Kevin Brown had peak stretches that help make their Hall of Fame cases.
With the Hall of Fame voting results being announced Wednesday, a few SIG blog contributors took the time to weigh in on candidates not expected to be inducted, but whose career included a distinguishing characteristic (or set of characteristics) that might make them Hall-worthy someday.
During his 24-year career, Tim Raines had a dynamic combination of contact ability, patience and speed. It's a combination that makes him unique.
Tim Raines, MLB Ranks, 1981-87
Raines is one of nine players who had at least a .290 batting average, a .380 on-base percentage, and 300 stolen bases in the Live Ball Era (since 1920).
Four of the other players to hit all three of those benchmarks (Kiki Cuyler, Willie Mays, Rod Carew, and Tony Gwynn) are in the Hall of Fame. The others are Alex Rodriguez, Derek Jeter, Barry Bonds, and Bobby Abreu.
Raines had a seven-year prime in which he was one of the game's dominant players. From 1981 to 1987, he hit .310 with 504 stolen bases.
During that time, he also led the majors in a statistic that best illustrates his value as a player -- Win Probability Added. That stat, historically tracked on Baseball-Reference.com, looks at every plate appearance, and calculates the impact of each turn on the team's chance of winning the game. It also rewards baserunners for successful steals and penalizes them when they are caught stealing.
For example, a stolen base in a tie game in the eighth inning is worth a lot more than one in a blowout.
This metric also allows you to rank a player's plate appearances, and times on base by their importance. The most important of those are known as high-leverage situations.
From 1981 to 1987, Raines hit .346, with a .431 on-base percentage, and stole 193 bases (at an 84 percent success rate) in those situations. That is impressive. And that makes him worthy of Hall of Fame consideration.
-- Justin Havens/Mark Simon
During the most prolific home run era in the history of baseball, only one pitcher was better at keeping balls in the ballpark than Kevin Brown -- Greg Maddux.
Brown's ability to throw a significant number of innings each season, while limiting the number of balls that left the park, was his defining skill during the peak of his career.
During Brown's best four-year stretch, from 1995 to 1998, he allowed just 36 home runs in 899 ⅔ innings pitched. While some consider home runs allowed a statistic mostly beyond the control of the pitcher, doing it over a four-season stretch indicates some form of a controllable trend.
Lowest HR Per 9 Rate
Over 4-Year Stretch
The fact that just three pitchers have allowed home runs at a rate as low as Brown did (0.36 home runs per nine innings) over a four year period, since 1950, shows the impressive nature of Brown's stretch.
Of all of Brown's great seasons, his 1996 campaign with the Marlins stands out the most. That season, he led the league in ERA (1.89) and home runs allowed per 9 innings (0.3).
According to Baseball Reference, his ERA+ of 217 in '96 (meaning his ballpark-adjusted ERA was 54 percent better than the league average) ranks 20th all-time for a single season.
Brown did not just have this single dominant stretch, but put together career numbers worthy of consideration (alebit stained by his inclusion in the Mitchell Report). In fewer innings pitched, he has a lower ERA than both Tom Glavine and John Smoltz, who are both generally expected to end up in Cooperstown. And he has a higher cumulative Wins Above Replacement (tracked on Fangraphs) than Glavine and is not far behind Smoltz in that category. He's deserving, at least statistically speaking, of careful consideration.
-- Ben Duronio