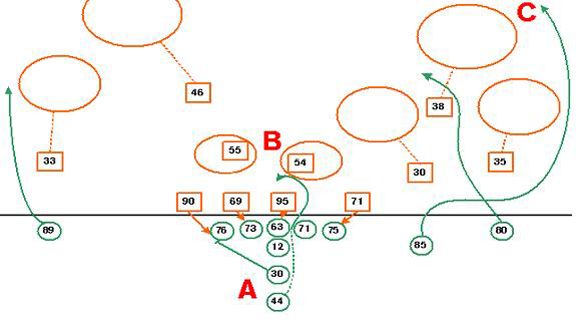 This week's edition of Chalkboard Stats focuses on a pivotal play in the Green Bay Packers' win over the Chicago Bears on Sunday. Greg Jennings hauled in a 46-yard reception to give the Packers 1st-and-goal from the one-yard line. According to AdvancedNFLStats.com, the play gave the Packers a 78 percent chance to win the game, the largest win probability for either team to that point in the contest.
Using the diagram above, let's take a closer look at the play and the accompanying statistical analysis.
A) Unorthodox personnel package plays into Packers' favor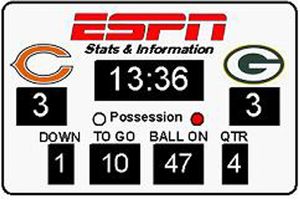 About 94 percent of all offensive formations this season included at least one tight end, yet the Packers lined up in a two-back, three-receiver set. This play marked the fifth time in the game the Packers had used this personnel grouping, with three of the previous four plays resulting in a pass (Rodgers had completed all three for 38 yards).
Although this distribution of skill-position players was rare, Aaron Rodgers was no stranger to its benefits. He entered Week 17 with a staggering success rate in two-back, three-receiver sets: among quarterbacks with at least 10 attempts, Rodgers ranked first in completion percentage (85.7), passer rating (114.4) and yards per attempt (11.5).
B) Play-action fake occupies linebackers Urlacher and Briggs
The Bears didn't appear to anticipate a run, as they lined up in their nickel package with only six men in the box. Packers' backs James Starks (#44) and John Kuhn (#30) also weren't strong candidates to get the ball; they had combined for only one yard on two carries the entire season in two-back, three-receiver sets.
Rodgers Passing with Play-Action
Before and After This Snap
However, entering Week 17 there were 4,488 first-down snaps taken in the NFL with two backs in the offensive backfield -- 2,941 of them were designed running plays. With an almost two-to-one chance of the Packers handing the ball off, linebackers Brian Urlacher (#54) and Lance Briggs (#55) had to at least respect the threat of a run.
The Packers faked the run, a move that's considerably more popular across the league than taking a straight drop in this situation.
In two-back sets on first down this season, NFL quarterbacks combined for 36 touchdowns, 24 interceptions and a 92.1 passer rating when using play-action (compared to 20 touchdowns, 21 interceptions, and a 77.4 passer rating when taking a straight dropback) entering Week 17.
C) Time in the pocket allows Rodgers to find his favorite deep threat
With the two linebackers holding down the middle of the field and the five defensive backs in pass coverage, that left only the Bears' formidable defensive front to rush the passer.
Kuhn stayed in to block, leaving six Packers to block four Bears. Defensive end Julius Peppers entered the game with seven sacks in four-man pass rushes, more than the Saints and Broncos entire teams' totals (six apiece).
Peppers is double-teamed by left tackle Chad Clifton (#76) and Kuhn. The added time in the pocket (Rodgers had approximately 4.4 seconds from snap to release, as timed by a member of ESPN Stats & Info), gave the Packers' quarterback the ability to work through his progression and hit Jennings (#85) with a deep strike. Jennings accounts for 13 of Rodgers' 21 targets and 76.4 percent of his passing yards on passes of 31 or more yards downfield.