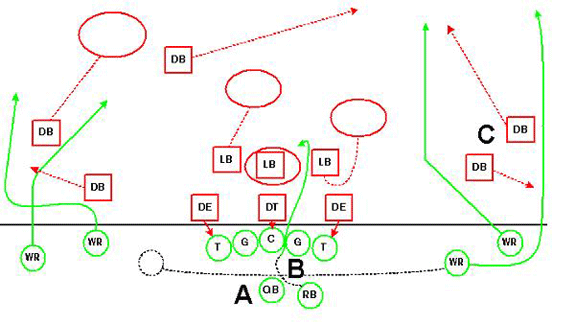 Over the last few weeks of the NFL season, we've produced a feature, "Chalkboard Stats," which takes a closer look at a key play, using play diagrams and next-level statistical analysis. We've decided to focus one of this week's pieces on the BCS title game matchup between Oregon and Auburn (ESPN, 8:30 ET)
This edition focuses on a crucial play in Oregon's October 2 matchup against Stanford. Down 11 points in the second quarter, Oregon quarterback Darron Thomas hit receiver Josh Huff for a 41-yard touchdown pass that ignited the Ducks' offense and shifted the momentum in their favor.
Here's a look at how this key pass play developed and was executed to near-perfection by Thomas and the Oregon offense.
A) Oregon comfortable with four receivers
Thomas lines up in a shotgun formation, just as he did for all 321 passes he threw this season. Next to Thomas is Heisman finalist LaMichael James, and on the outside, four receivers are lined up to create a mismatch with Stanford defenders that likely can't contain the speedy receivers. Thomas threw 36 percent of his passes this season with at least four receivers on the field, and is comfortable in this formation.
B) The value of the fake
After taking the snap, Thomas fakes as if he is going to hand the ball to James, freezing the defense for a split second. Stanford has to respect the running game because James has broken off 36 runs of at least 20 yards the last two seasons, more than any other player in the nation.
Thomas frequently used play-action to wreak havoc on defenses this season. After faking a run, Thomas averaged more than 15 yards per completion with 19 touchdowns and just two interceptions. On a straight dropback without a play-action fake, Thomas averaged just 11.3 yards per completion with nine touchdowns and five picks.
C) The payoff
The split-second hesitation by the defense, forced by the run-fake, is all that Thomas needs. He exploits Stanford safety Taylor Skaufel, who gets beat down the right sideline by Josh Huff. Skaufel has no help because cornerback Richard Sherman is drawn to the middle of the field by Oregon's leading receiver, Jeff Maehl.
This 41-yard pass capped off a 75-yard drive that spanned just 1 minute, 49 seconds. Oregon led the nation with 44 touchdown drives that took two minutes or fewer -- a staggering number considering that there were 78 FBS teams that didn't even score 44 total offensive touchdowns during the regular season.
Thomas' long touchdown strike got Oregon rolling, as the Ducks went on to score four unanswered touchdowns in the second half en route to a 52-31 win. Oregon's offense is no stranger to long touchdowns, putting up 27 scores this season from the 25-yard line or further away, the highest total in the nation.
Auburn's defense must find a way to prevent these big plays as Oregon's prolific offense is fueled by its long gains. Auburn did have success in this area, allowing just 24 plays of 25 or more yards, tied for 22nd-best in the nation.
On the biggest stage this season, in the Tostitos BCS National Championship Game, Oregon will be the Tigers' toughest test yet.