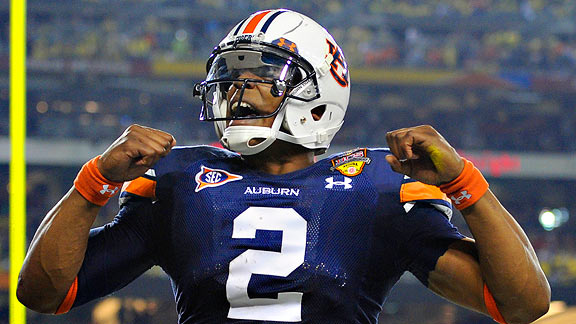 Joe Nicholson/US Presswire
Cam Newton had many statistical reasons to celebrate his 2010 season.
Cam Newton -- who is No. 6 in this week's Cross-Sport Power Rankings -- heads to the NFL draft coming off a Heisman Trophy, a national title and one of the most statistically impressive seasons of all time: 1,473 rushing yards, 4,327 yards of total offense, 20 rushing touchdowns, 30 passing touchdowns and a receiving touchdown. His 51 touchdowns fell just short of the record (55) set by Tim Tebow in his Heisman Trophy-winning season of 2007.
Newton saved his best performances for the biggest games. The junior was exceptional against opponents ranked at the time of the game. In those six games (against South Carolina twice, Arkansas, LSU, Alabama and Oregon), he was responsible for 23 touchdowns and rushed for 126.2 yards per game on 5.6 yards per carry.
Newton accounted for 51 touchdowns this season. There are 82 Football Bowl Subdivision teams that didn't score 51 TDs this season, including LSU, Texas, Penn State and Notre Dame.
Newton's 603 rushing yards over a three-game span were the most for an Auburn player over a three-game stretch since Bo Jackson in 1985. Newton's 603 yards came against Kentucky, Arkansas and LSU.
Newton also broke Jimmy Sidle's SEC rushing record for a quarterback. Newton is the first quarterback in SEC history to throw for 2,000 yards and rush for 1,000 yards in a season.
How did Newton get things done for the national champs?
Our video review team, which tracked every Auburn game this season, took a closer look:
Newton saw a dramatic increase in the effectiveness of his deep ball in the final six games. Scouts might question his downfield accuracy, but Newton showed improvement as the season progressed. He completed only 34.5 percent of his throws that went 20 or more yards in the air in his first eight games but completed 57.1 percent in his last six games, with nine touchdowns and no interceptions.
Newton was almost perfect when facing five or more pass-rushers, completing 69 percent of his passes against blitz, with 12 touchdowns and one interception. The only pick came early in the national title game against Oregon.
Newton was the nation's top-rated passer, and that helped set him up for big gains on draw plays and scrambles. He averaged 9.9 yards on his 34 quarterback draws and 9.2 yards on his 43 scrambles.
Newton might rank among the best college quarterbacks in this draft class, but how have quarterbacks with similar skill sets transitioned to the NFL? Consider two quarterbacks from similar systems recently, Alex Smith and Vince Young. Combined, they've thrown for 93 touchdowns, but 95 interceptions. Smith's passer rating in the pros is just 72.1. Young is a hair better, at 75.7.
Lastly, Newton's season was one of the most impressive in recent memory. Was it the MOST impressive? A case could be made among the following players: Who posted the most impressive season?
Best of the Best