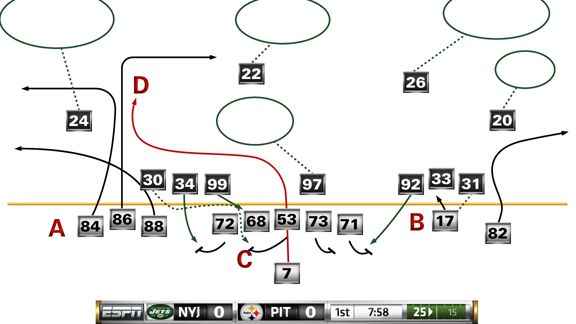 This Super Bowl edition of Chalkboard Stats examines the Pittsburgh Steelers' offense and how the Green Bay Packers may look to contain it. In the AFC Championship Game, Pittsburgh orchestrated a 15-play, 66-yard opening drive that took more than nine minutes. The drive ended in a touchdown, made possible by a Ben Roethlisberger 12-yard scramble on 3rd-and-long.
Using the diagram above, let's take a closer look at the play and the accompanying analysis.
A) Steelers go five-wide to spread out Jets' "Dollar" defense
Facing a third-and-12, head coach Mike Tomlin chose to employ an unusual five-wide receiver set. Packages containing five true wide receivers are extremely rare in the NFL. Including the playoffs, only 69 of the 33,582 snaps this season featured such personnel. The Jets countered with an equally-unusual "Dollar" personnel package consisting of eight defensive backs. The shotgun formation with only Roethlisberger in the backfield eliminated the threat of a handoff or play-action, which reinforced the Jets' pass-oriented decision of speed over power.
B) Smith, Cromartie neutralize deep threat Wallace

WallaceSafety Eric Smith (No. 33) and cornerback Antonio Cromartie (No. 31) were tasked with removing speedy receiver Mike Wallace (No. 17) from the play. Smith jammed Wallace within five yards of the line of scrimmage, then allowed Cromartie to engage in man coverage. Not a bad decision by Rex Ryan, as Wallace led the Steelers in targets (30), receptions (18), yards (287) and first downs (13) on third down this season.
Wallace's 25.8 yards per reception in four- or five-wide receiver sets also led all receivers with at least 10 targets, making him an excellent candidate for the ball in this scenario. With Wallace neutralized, the Jets could afford to play a deep zone beyond the sticks and keep every other receiver in front of them.
C) The Blind Side, starring Maurkice Pouncey
Jets defensive coordinator Mike Pettine designed a beautiful zone blitz, with linebacker Calvin Pace (No. 97) dropping into coverage, while Jason Taylor (No. 99) and the two defensive backs crowding the line of scrimmage attempted to overload the Steelers' left side. This resulted in a favorable matchup for the Jets -- with no extra blocker for Roethlisberger in the backfield, "Gang Green" exploited a three-on-two advantage in pass protection.

Pace's job on the line of scrimmage was to occupy Pro Bowl rookie center Maurkice Pouncey long enough for the overload blitz to reach Roethlisberger. Pouncey kept his head on a swivel and deflected blitzer Drew Coleman (No. 30) at the last second. The crucial block freed Roethlisberger, allowing him to escape the pocket through the "A" gap, the exact spot Pouncey had just vacated.
D) Big Ben's big-play ability
Roethlisberger is an underrated pocket passer. His 8.6 yards per attempt inside the pocket ranked second this season, while his 101.9 passer rating ranked fourth. He's dangerous when a play breaks down and is allowed to freelance, but possibly the most remarkable trend that Roethlisberger exhibited this season is the ability to make a play on third-and-long in big spots.
Roethlisberger Conversion Pct
3rd-and-11 or Longer, Last 3 Years
This postseason, Roethlisberger has moved the chains four of eight times on third-and-11 or longer, but he'll be facing a defense that specializes in preventing just that. The Packers have shut the door on third-and-long en route to Dallas, boasting a postseason-best 38.5 opposing passer rating, and only five rushing yards on two carries (zero first downs).
Containing Roethlisberger will represent a challenge for the Packers. Not counting the three kneel downs to end the AFC Championship Game, Roethlisberger had eight carries against the Jets, the third-highest total of the entire season by a quarterback not named Michael Vick. That's actually good news for the Packers, who held Vick to just 32 rushing yards and sacked him three times in the Wild Card Round.