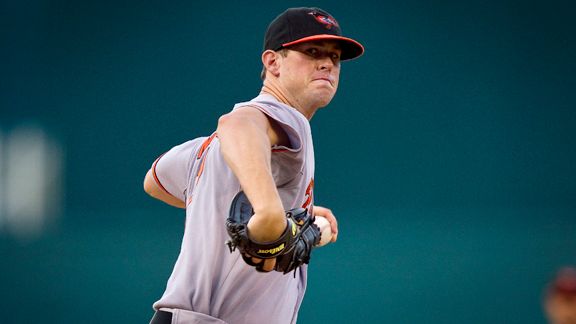 Jeff Moffett/Icon SMI
Brian Matusz dominated hitters at the end of last season. But will the same approach work in 2011?
One of the keys to the Baltimore Orioles replicating their late-season success could be whether left-handed starter Brian Matusz is able to perform at the level he did at the end of 2010.
Matusz went 7-1 with a 2.18 ERA, with 52 strikeouts and 16 walks over 62 innings in 11 starts in August, September and October. (That also coincided with Buck Showalter's hiring.) It's not like he was significantly supported by the Orioles offense, either. In Matusz's last eight starts, all of which the Orioles won, the team totaled 31 runs (fewer than four per game).
What did Matusz do to help himself and his team so significantly during this stretch?
Brian Matusz vs Left-handed Batters
Starts Last Season
The biggest difference in Matusz's performance was his work against left-handed hitters. In those 11 starts, lefties were just 4-for-47 with 17 strikeouts. Basically, he turned into Randy Johnson against left-handed hitters (only with a fastball averaging 90 mph instead of 98). You can see from the chart just how much of an improvement he made.
Both our data from video review and Pitch F/X (a multi-camera pitch-tracking system) showed that left-handed hitters were more willing to chase Matusz's pitches out of the strike zone, which boosted his strikeout rate. As September came, Matusz increased the frequency with which he worked away to left-handed hitters. Even when they were able to put the ball in play against him, they struggled.
The difference in lefties' batting average on balls in play against Matusz was huge -- .400 in the first four months of the season, .133 the rest of the way. Hitters were putting the ball in play at the same rate. They just didn't get hits.
Could this have been because of good luck? Maybe. But maybe not. Consider this:
Inside Edge, which does video review of every pitch thrown, charts a "well-hit average" based on frequency of line drives and deep fly balls.
Last season from April to July, left-handed hitters had 18 "well-hit" balls out of 68 at-bats that ended with contact. In other words, when a left-handed hitter made contact, he had about a 26 percent chance of hitting the ball hard against Matusz.
Those numbers took a significant dip in his last 11 starts, to a 10 percent well-hit rate. In those games, lefties hit just three balls hard in 30 times in which they made contact.
Now for those who may argue that some of Matusz's success came against cupcake September lineups, that's partly true, but not entirely the case.
Matusz allowed three runs in a 21-inning stretch prior to September in wins against the Texas Rangers, Chicago White Sox and Boston Red Sox. He also beat a full-strength Yankees lineup on September 6.
Full disclosure: He did shut out the Rays on a day in which they didn't have Evan Longoria, beat an injury-depleted Boston team again in late September, and allowed one run in six innings against a Tigers team sans Miguel Cabrera and Magglio Ordonez.
But keep in mind that Matusz did shut down some pretty good hitters, particularly the left-handers. Carl Crawford, J.D. Drew, David Ortiz and Josh Hamilton were a combined 0-for-14 against him in his impressive stretch at season's end.
Matusz made the necessary adjustments to his game to dominate lefties as the 2010 season reached its conclusion. Opposing hitters had six months to ponder new approaches against him. Who will prevail? It's something to watch as the season unfolds.