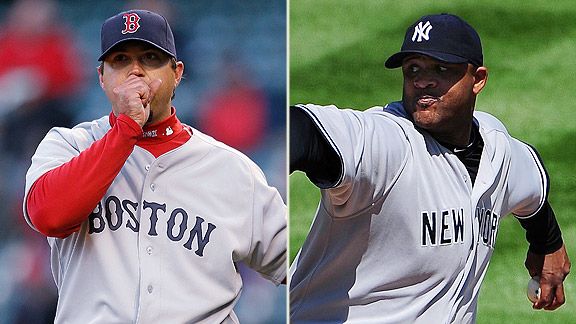 US Presswire/Getty Images
Josh Beckett and CC Sabathia have their work cut out for them on ESPN's Sunday Night Baseball.
It was 98 years ago today that the team formerly known as the New York Highlanders played its first game with the Yankees as its nickname.
The Yankees lost to the Washington Senators, 2-1, and even in those days, the New York media was a bit on the harsh side. The game story in the New York Times led with how the defeat was caused by "stupid base running."
One team's media throng is likely to have a bit to say after the Yankees and Red Sox clash in their series finale on ESPN's Sunday Night Baseball at 8 ET.
There will either be further talk of a Red Sox malaise or of how a formerly winless Boston squad got the better of the Yankees this weekend (and the slump of Mark Teixeira, whose batting average has dipped from .333 to .200 in a three-game span). Here are some of the notes that may come into play for tonight's broadcast.
• Not only is April 10 the anniversary of the Yankees nickname, but it's also one for Yankees starter CC Sabathia. A year ago on this date, he no-hit the Tampa Bay Rays for 7⅔ innings before a Kelly Shoppach hit broke up his attempt at history.
Sabathia has won 17 or more games in each of the last four seasons, the longest current streak in the majors. The last pitcher with a longer streak was Randy Johnson (six straight, 1997 to 2002).
Sabathia has a couple of guys to watch out for tonight, most notably Kevin Youkilis, whose .409 batting average against him is the second-best among active players with at least 20 plate appearances (Derek Jeter ranks first, with a .500 batting average against his teammate). The Yankees lefty does have an advantage against Boston's best lefty bat, Adrian Gonzalez, who has struck out five times in eight at-bats against Sabathia.
• The Red Sox haven't hit left-handers well in their first eight games. They're hitting .187 with a .504 OPS in the small sample of 80 plate appearances. Last season, the Red Sox ranked second in the majors with an .802 OPS against lefties.
• The Red Sox do have a history of scoring runs for Josh Beckett when they face the Yankees though. Beckett is 10-7 against the Yankees since joining the Red Sox despite an ERA of 6.26 (his ERA is 3.77 against everyone else). In his 22 starts, they've averaged six runs of support for him.
Beckett yielded 31 runs to the Yankees last season, having trouble with the likes of Brett Gardner (6-for-13) and Nick Swisher (5-for-11 with a pair of home runs). It's been a long time since a pitcher allowed that many runs to the Yankees. The last was Hall of Famer Early Wynn for the 1958 White Sox (33). Should that trend continue, Beckett may be the subject of tomorrow's media fodder.
Sunday's Did You Knows?
• According to the Elias Sports Bureau, Derek Jeter is a .319 career hitter when playing on ESPN's Sunday Night Baseball, but there are two different ways to look at that. Jeter is 25-for-100 (a .250 batting average) career against the Red Sox in such games. He's hitting .370 on Sunday Night Baseball against all other major league teams.