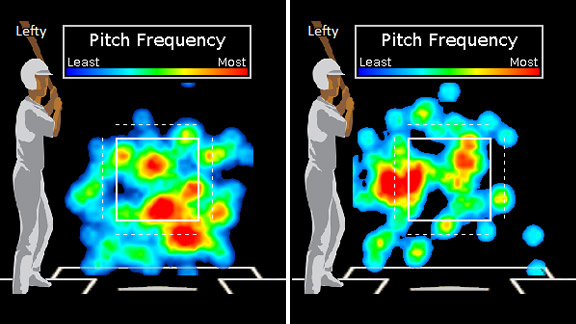 TruMedia Networks
Pitchers are approaching Adrian Gonzalez differently on the road and at home this season.
For more from Jeremy on ESPNBoston.com click here.
Adrian Gonzalez has agreed to a seven-year, $154 million contract with the Boston Red Sox after being traded there from the San Diego Padres in the offseason. The San Diego native finished 20th in the MVP voting in 2007, and finished higher each season after that.

The Red Sox have locked up a player who is viewed by many as a perfect fit for Fenway Park. During his five seasons with the Padres, he slugged .443 at home and .579 on the road. In all, 64.6 percent of his home runs were hit away from PETCO Park. In 2009, he became the third player in major-league history to hit 40 home runs with 12 or fewer coming at home (Jason Giambi in 2003 and Jeff Bagwell in 1999).
Last season, he hit .443 on balls to left field, an astonishing 152 points higher than when he went to right. He hit .401 to center field as well. It's his opposite field power that makes people think Gonzalez will thrive in Fenway.
According to Elias, Gonzalez has hit 50 opposite-field home runs since the start of 2008, the most in baseball. Only three other players have more than 30 such home runs during that span. In fact, 34 of those 50 opposite-field HR were hit on the road.

GonzalezOpposing teams seem to be aware of this. Looking to prevent him from going to the opposite field, 57.8 percent of the pitches thrown to Gonzalez by the Rays and Yankees -- Gonzalez's opponents at Fenway Park this season -- were inside. Only 22.9 percent were outside.
During Boston's road trip, there wasn't the Green Monster to worry about, so those percentages nearly flipped (28.2 percent inside, 44.4 percent outside).
The heat maps above -- courtesy of TruMedia Networks -- show exactly how Gonzalez has been pitched at home (right) and on the road (left). Last season, Gonzalez hit 13 opposite-field home runs and none of them came on inside pitches.