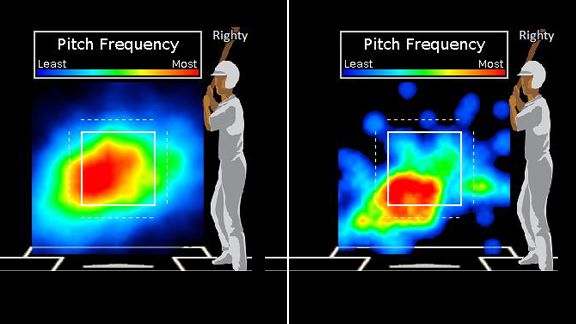 Josh Johnson has handled right handed hitters differently this season. Left picture shows 2009 and 2010 seasons. Right picture shows this season.
If it seems like Josh Johnson is flirting with a no-hitter every time out this season, it's because he is. In each of his five starts this season, the Florida Marlins right-hander has not allowed a hit though three innings. In three of his five starts, including Sunday against the Rockies, he pitched at least 5⅔ innings of no-hit ball. Johnson has three of the six total no-hit bids of at least 5⅔ innings this season. According to Elias, he is the first pitcher in the last 50 years with three starts of at least 5⅔ no-hit innings in April.
So how has Johnson been able to dominate hitters each time out? It helps to have a mid-90s fastball and a devastating power slider. But it hasn't been his stuff as much as the way he's commanding those pitches, especially to right-handed hitters.
If we look at the heat maps above, we can see just how well Johnson is locating the ball to righties. The heat map on the left shows Johnson's pitch frequency to righties in the previous two seasons and the one on the right shows it in 2011. Focusing on the red area, the spots Johnson hits most often, we can see that he's keeping the ball down in the zone to righties much more frequently – with increased effectiveness.
Josh Johnson vs RHB, Last 3 Seasons
As you can see in the chart, Johnson is hammering the ball down in the zone, throwing it 60-percent more frequently to righties than he did in the previous two seasons. His ground-ball rate against righties has jumped, moving into the elite 50-percent threshold, and his OPS is off-the-charts low.
The biggest improvement with Johnson's command has been on his slider. He's throwing it slightly more often to righties -- 36.6 percent of the time compared to 31.4 the previous two seasons -- but with improved location and results. After 58.5 percent of his sliders were down in the zone in 2009 and 2010 combined, a whopping 83.6 percent of his sliders are down in the strike zone or below this season.
The result is that the slider has become even more of a chase pitch for Johnson. Righties are swinging at 52.3 percent of his sliders out of the zone this season, compared to just 31.8 percent last season, helping make the pitch literally unhittable to this point. Right-handed batters are 0-for-20 in at-bats ending on Johnson's sliders this season, including nine strikeouts. That's the most outs recorded by a pitcher without giving up a hit on any pitch type this season against righties.
Obviously, it's not even May yet, so the small sample rule still applies, but if Johnson can sustain this kind of command, we'll be sure to hear the words Josh Johnson and no-hitter much more this season.