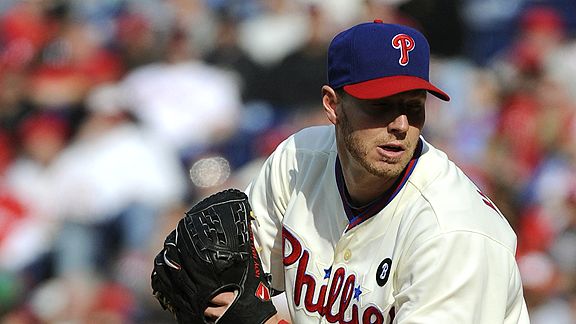 Barbara Johnston/US Presswire
Roy Halladay will face the Reds for the first time since he no-hit Cincinnati in the 2010 NLDS.
(The Philadelphia Phillies host the Cincinnati Reds at 7 p.m. ET on ESPN2.)
On Tuesday, the Reds snapped an eight-game losing streak (including playoff games) to the Phillies.
On Wednesday, the Reds have one more streak to break -- getting a hit off Roy Halladay. The last time Halladay faced the Reds, he threw the second postseason no-hitter in baseball history.
Halladay leads all of baseball with 80 strikeouts and is averaging 9.3 strikeouts per nine innings. That's well above his career high of 7.9 set last season. Only three Phillies have averaged better than a strikeout per inning and qualified for the ERA title: Curt Schilling in 1997 and 1998, Brandon Duckworth in 2002 and Cole Hamels last season.
This will be Halladay's sixth regular-season start with umpire Tony Randazzo working behind the plate. In his first two starts (2000 and 2004), Halladay was 0-2 and allowed 10 runs in 10 innings. In his past three (all since the start of 2010), Doc is 2-1 with a 1.44 ERA (four earned runs, 25 innings), 21 strikeouts and three walks.
Several Reds have had success against Halladay, highlighted by Ramon Hernandez. His .351 (13-37) average against Halladay is the fourth-highest among players with at least 30 at-bats: Kevin Youkilis (.375), Ivan Rodriguez (.359) and B.J. Upton (.357).
Opposing Halladay will be Travis Wood, who took a perfect game into the ninth inning in his only career start against the Phillies before allowing a leadoff double in the ninth. Halladay was the opposing starter in that game, too.
Wood is unbeaten in his past three starts but has failed to pitch seven innings in each of his past nine starts.
The Reds are third in the National League with a .262 batting average but are hitting just .254 against right-handed pitching. Furthermore, Cincinnati is hitting just .239 on the road, compared to .282 at home.