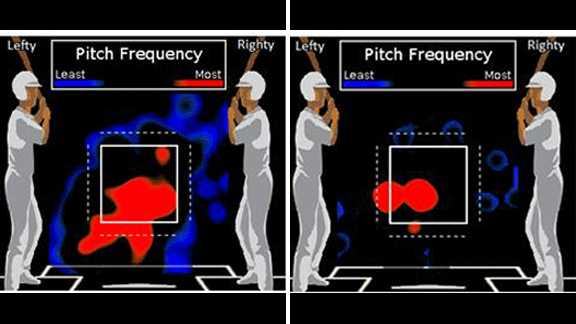 On the left is the pitch location for Billingsley's curveball over his first 12 starts. On the right is the location over his past three starts.
Los Angeles Dodgers starter Chad Billingsley has struggled over his past three starts, posting an 11.19 ERA and giving up 30 hits in just 13 ⅔ innings. After his last start, Billingsley and manager Don Mattingly were unable to explain why he's been so bad in June after winning his last two starts in May. His pitch type distribution, swing percentage, miss percentage and strike percentages are largely the same over both time periods.
Catcher Rod Barajas has mentioned that Billingsley's curveball hasn't been as sharp as it was earlier this season. Billingsley threw about as many curveballs in his past three starts as he had in his first 12, but a closer look at the specifics of the pitch shows that Barajas might have found the root of Billingsley's problems.
In his first 12 starts batters totaled seven hits against Billingsley's curve (.123 BA), just two for extra bases. In his past three starts alone, Billingsley has allowed five hits off his curve (.357 BA) including two doubles.

BillingsleyAnother measure of how hard his curve is getting hit in these starts is that of his 11 curves put in play, four have been line drives. In his first 12 starts, only two of his 33 curveballs put in play were line drives.
One sign of Billingsley's curveball problem is when you look at where he is locating the pitch.
Batters have increased their swing percentage (from 44 to 52 percent) while decreasing their miss percentage (from 29 to 15 percent).
It appears from the heat maps that Billingsley is throwing his curve almost completely in the zone, which would explain his struggles. While he's throwing the curve a little higher in the zone, the problem isn't how often it's been in the zone; the percentage of curveballs in the zone over both time periods is nearly equal.
The real story lies in the break of the pitch itself. In his first 12 starts, Billingsley's curve had an average vertical break of 8.9 inches. In his past three starts, it's averaged 7.2 inches of vertical break. His curveball is coming in flatter resulting in hitters decreasing their chase rate against the pitch from 34 to 22 percent. His problem isn't just where he's putting the pitch, but how he is throwing it.