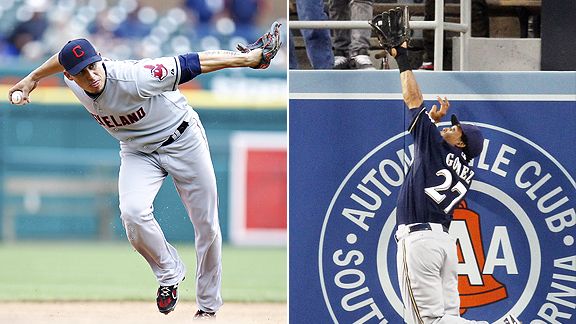 Getty Images/Gregory Shamus
Asdrubal Cabrera and Carlos Gomez show off the skills that made them Defensive All-Stars.
With the All-Star break almost over, and as we await the resumption of baseball on Thursday, let's take a break from the typical chatter of second-half storylines, and shift our focus to the players on the field and the defensive All-Stars of the first half.
Baseball Info Solutions is a company specializing in determining the best (and worst) defensive players in more than 100 different metrics, from barehanded plays to home run robberies.
Using their data, here's our take on the players in the first half that have been good enough to be called a Defensive All-Star. (Note: ranks are for the player at his position, unless otherwise noted)
Pitcher: Anibal Sanchez, Marlins
Most Barehanded Plays For Outs (5)
Sanchez is averaging more than a strikeout per inning, but he gets on this list because of his defense while on the mound.
Catcher: Yadier Molina, Cardinals
Most Catcher Blocks (401)
Yadier is known for a strong arm, having thrown out over 40 percent of baserunners during his career. This season he also leads everyone in catcher blocks, defined as plays when runners are on base or if the pitch was the third strike.
First Base: Carlos Pena, Cubs
Most Difficult Throws Handled (32)
Pena can likely thank Starlin Castro for this award, as the shortstop already has 18 errors this season. Handling difficult throws applies to throws in the dirt or throws wide of the bag.
Web Gems Leaderboard
First Half of 2011 Season
Second Base: Brandon Phillips, Reds
Most Double Plays Turned Despite An Aggressive Slide (6)
Brandon Phillips has wowed many fans with his defensive Web gems, he's also one of the best at turning double plays.
Third Base: Aramis Ramirez, Cubs
Most Barehanded Plays For Outs (10)
Ramirez has not only been one of the Cubs best offensive players, hitting .298 with 15 home runs and a team leading 51 RBI, but he's also been a star on the diamond, converting 10 barehanded plays into outs.
Shortstop: Asdrubal Cabrera, Indians
Most Web Gems (11) and Web Gems Points in MLB (41)
Asdrubal Cabrera has been a familiar face on Baseball Tonight, as a four-time Web Gem champ. Between two behind the back flips, a bare-hander on a short hop, and a diving stop and throw in a defensive shift, Cabrera has done it all defensively this season.
Left Field: Sam Fuld, Rays
Most Web Gems Either 1st or 2nd in MLB (9)
Despite being second in both Web Gems and Web Gem points, Fuld has more Web Gems rated as first- or second-best than any other player.
Center Field: Carlos Gomez, Brewers
Tied for Most Home Run Robberies in MLB (2)
Taking away a home run might be the most exciting play in baseball, and Gomez has done it twice, once with the bases empty and once with Carlos Beltran on first base, saving three potential runs.
Right Field: Nick Swisher, Yankees
Most Times Holding Players to a Single Among OF (6)
Swisher has recently begun to heat up at the plate, with seven homers and a .986 OPS since June 1, but his strong arm in the outfield has been an asset for the Yankees all season.
For more defensive stars, check out Baseball Tonight's Web Gems Mid-Year Special (11:30 ET, ESPN2).