With the second half about to start, we thought we'd take a look at two potential storylines, using our new heat map technology. One involves the rise of a pitcher who is getting hitters to miss more. The other looks at a pitcher's ability to sustain performance when hitters are missing less often.
CAN'T TOUCH THIS
White Sox closer Sergio Santos' slider is one of the most devastating pitches in baseball. While the pitch was above-average in 2010, it has been nearly unhittable this year.
Sergio Santos' Slider
Last Two Seasons
Opposing hitters are just 4-for-64 against him in at-bats ending with a slider. Righties have yet to touch him this season, with zero hits in 41 at-bats ending in a slider.
Of the 104 two-strike sliders Santos has thrown to all batters, 49 have resulted in strikeouts, giving him a putaway rate of 47.1 percent, which is by far the best mark in the league.
One key to his success with the slider this season has been his ability to effectively locate the pitch out of the strike zone. Opposing hitters have only one hit in 37 at-bats ending in a slider out of the zone. Of the 36 outs he's recorded on a chased slider, 33 of them have been strikeouts, as batters have missed on nearly 90 percent of their swings at out-of-zone sliders.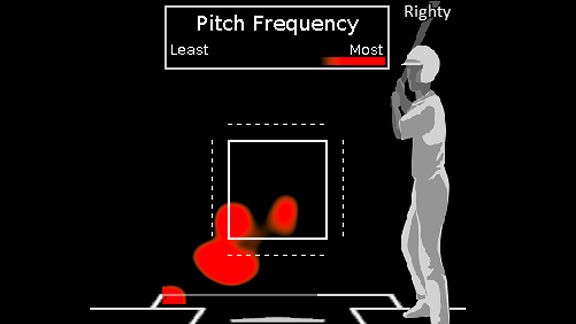 Sergio Santos slider vs right-handed batters this season
KING FELIX CHANGES UP HIS APPROACH
How has Felix Hernandez followed up his Cy Young season of 2010? One noticeable thing is that Hernandez is throwing his signature changeup more this season. In the first half of 2011, 19 percent (about one of every five) of Hernandez's pitches have been changeups, compared to 12 percent (about one of every eight) of his pitches in 2010.
Is there any difference in the effectiveness of his changeup? When looking at him against left-handed hitters, those who would primarily face that pitch, we see that Hernandez has spread the location of his changeup out more (as you can see in the heat maps below). Even in switching approaches, Hernandez has been equally as effective as last season. While he is throwing the changeup more, his location is inducing hitters to hit the ball more often.
Hernandez's 2011 miss percentage when throwing his changeup to left-handers is 23 percent, a drop from 43 percent in 2010. But the increased contact hasn't done a lot of damage. That's because his opponents' batting average when they put the ball in play (forcing the defense to make a play) has dropped from .226 (in 2010) to .182 (in 2011).
The thing to watch in the second half will be whether opponents can get hits instead of in-play outs as they continue to put the ball in play more frequently.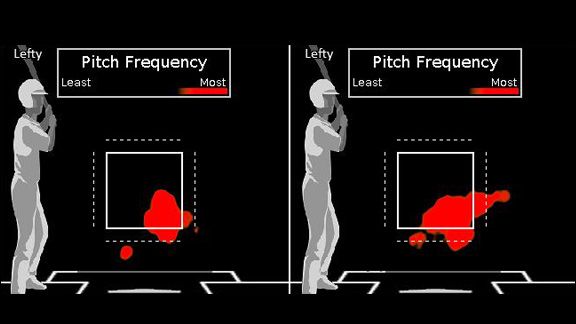 On the left, Felix Hernandez changeup location vs left-handed batters first half of 2010.
On the right, Felix Hernandez changeup location vs left-handed batters first half of 2011.
-- Courtenay Harris, Jacob Nitzberg, Katie Sharp, Mark Simon contributed