With the second half about to start, let's take a look at two sluggers who have turned it around this season, using our new heat map technology. One involves a player who is mashing everything this season, after a disappointing 2010. The other looks at a batter who has transformed his season thanks to a recent lineup change.
BRING ON THE HEAT
Before his hamstring injury, Mets shortstop Jose Reyes had a fantastic first half of the season, matching Adrian Gonzalez for the major league lead in batting average (.354). A large component of Reyes' improvement from last season is his performance against fastballs.
Reyes leads all qualified National Leaguers in the first half with a .402 average against fastballs (third-best in MLB), up 90 points from a year ago.
Reyes Mashing Fastballs
H-AB By Zone (2011 Season)
The heat maps above show just how wide Reyes' plate coverage has been this season. The image on the left shows where Reyes best hit fastballs in 2010 (note the empty space over the middle of the plate). The image on the right shows his performance in 2011, in which he's mashing fastballs in just about every spot.
The chart on the right shows Reyes' batting average by fastball location this season. Note the performance against pitches over the middle-third of the plate, height-wise (essentially waist-high fastballs). He's a combined 29-for-55 when an at-bat ends with a pitch to that spot. That .527 batting average is more than 200 points above the major-league average, based on our pitch-performance data.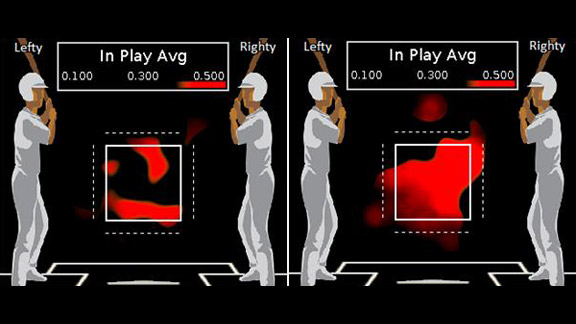 On the left, Jose Reyes' hot zones vs fastballs in 2010.
On the right, Jose Reyes' hot zones vs fastballs in 2011.
ROCKIE ON THE REBOUND
Colorado Rockies outfielder Carlos Gonzalez got off to a slow start this season, hitting just .254 and slugging .416 through June 5. As the Rockies fell below .500, manager Jim Tracy moved Gonzalez to the leadoff spot, hoping a change in the order would spark a turnaround for both the team and the struggling slugger.
Although the Rockies have fallen farther back in the race, the move has paid huge dividends for Gonzalez. In 27 games since June 6, Gonzalez is hitting .367 and slugging .633 at the leadoff position for the Rockies.
Carlos Gonzalez
High Pitches This Season
Before the switch, high pitches were giving Gonzalez a lot of trouble. In 30 at-bats ending in pitches in the upper third of the zone and above, he had just three hits and missed on 27 percent of his swings.
Since the move, Gonzalez has been crushing these pitches. He's 11-for-29 with six extra-base hits, and when putting high pitches in play, his line drive rate has more than doubled.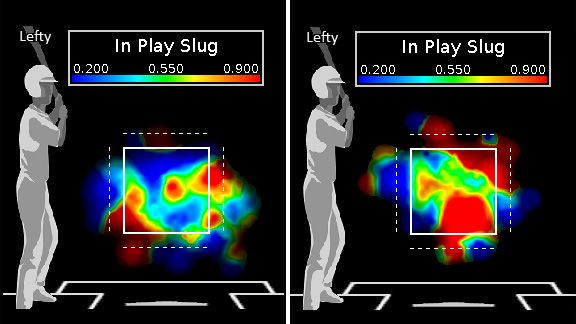 On the left, Carlos Gonzalez batting third, through June 5.
On the right, Carlos Gonzalez since June 6, in the leadoff spot.
-- Andrew Davis, Jacob Nitzberg, Katie Sharp, Mark Simon contributed