UptonThe Arizona Diamondbacks have gone from worst (65-97 in 2010) to first in the NL West. After Tuesday night's win, they are 61-49 and tied with the San Francisco Giants for first place in the NL West (the teams finish their three-game series Wednesday afternoon). One of the biggest reasons for this turnaround has been the huge year put up by Justin Upton, a player whose name was floated as possible trade bait last winter. Upton has responded to those rumors by putting up the third-highest Wins Above Replacement (5.3) of any player in the National League.
Upton extended his hitting streak to 14 games Tuesday night with a 398-foot home run in his final at-bat of the game. Upton is the hottest he has been all year; during the 14-game streak, he has more extra-base hits (15) than singles (9), and as many home runs as strikeouts (7). His slash line for the streak is .436/.484/.982, and he's done all of this against the strong pitching of the Giants and Milwaukee Brewers, as well as in the pitcher-friendly confines of PETCO Park.
Justin Upton
2010 vs 2011
Upton has seen roughly the same percentage of pitches in the strike zone this year as he did in 2010, with similar pitch-type breakdowns. What's changed is that Upton has been far more aggressive at the plate, shown by an increase in his swing rate. He is generating more power as well, putting a greater percentage of the pitches he swings at in play. Despite this increased aggression, Upton has seen a large drop-off in his strikeout rate.
Upton's GB/FB ratio has also improved for the third straight year, to the point where he is now putting a higher percentage of balls in play in the air (42 percent) than on the ground (37 percent). Upton's Isolated Power (Batting Average without singles) has spiked 79 points as a result of this increase in fly balls.
Upton turns 24 this month and is locked up through 2015 for a total of $50 million, topping out at a salary of $14 million in 2014 and 2015. The Diamondbacks made a couple of moves at the deadline because they feel they can win in 2011, but with Upton, they have a franchise player to anchor the lineup around for years to come.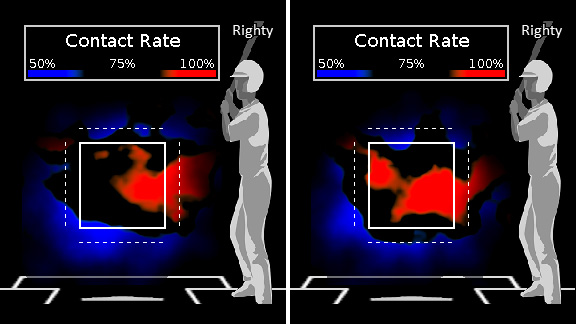 Upton is far more aggressive with pitches in the strike zone this year (right) than in 2010.