UgglaThe first three months of Dan Uggla's Atlanta Braves career was an unmitigated disaster, particularly when one considers it was the first season of a brand new contract extension. However, over the last month and a half Uggla has looked very much like the impact hitter that the Braves thought they were acquiring this offseason.
With that said, what are the differences between the Uggla who didn't hit at all in the first three months of the season and the one currently on a 28-game hitting streak? Let's look at a couple of things:
1. He's hitting pitches on the outer-third of the plate and beyond much better now.
Dan Uggla vs Pitches Away (Outer-Third and Beyond)
2. When he makes contact with a slider from a right-handed pitcher, he's crushing it.
When Uggla was going bad, he couldn't make contact with sliders from right-handed pitchers. He only was putting about one-third of his swings in play. Now, he's putting half of his swings against sliders from righties into play and doing major damage. When making contact with a slider from a right-handed pitcher during the streak, he's 11-for-22 with five home runs. And to tie back to the previous note, four of those have come on sliders on the outer-third.
3. His groundballs are finding holes in the infield defense.
When Uggla was struggling, roughly one of every five groundballs he put into play became a hit, which is close to the league average. During his hit streak, nearly half of his groundballs have found holes and added to his hit total. Some may say that he's gotten really lucky during his streak with more grounders finding holes in the defense. But it's also worth noting that he's hitting those groundballs a lot harder, according to Inside Edge video review. Before the streak, he made hard contact on 12 percent of the groundballs he hit; during the streak that rate has doubled to 25 percent.
4. One last point for Uggla and we'll use heat maps to illustrate it. If you look through July 4, Dan Uggla had no "hot zones" – literally. Now…he's got plenty, as you'll see below.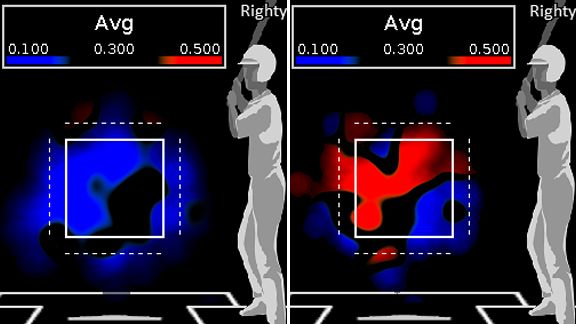 Left: Dan Uggla's hot and cold zones prior to hit streak.
Right: Uggla's hot and cold zones since streak started.
David Pinto of BaseballAnalytics.org takes a different look at Uggla's turnaround.