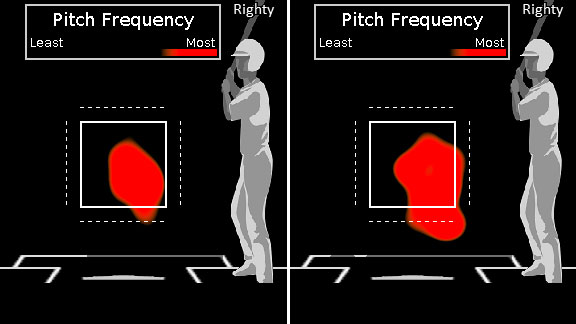 Left: Where Clayton Kershaw most frequently located his slider to right-handed hitters in 2010
Right: Where Kershaw located his slider most often to right-handers in 2011
One of the few bright spots for the Los Angeles Dodgers this season has been Clayton Kershaw. His 14 wins leave him behind only Roy Halladay and Ian Kennedy in the National League. Kershaw's 193 strikeouts trails only Justin Verlander for the major league lead.
What has brought him into the NL Cy Young picture? One answer the improved effectiveness of his slider against right-handed hitters.
Kershaw is using the pitch significantly more in 2011 against right-handed batters than he did in 2010. After throwing it an average of around 10 times per start to them last season, he's thrown the slider about 17 times per start so far this season.
As our heat maps above show, Kershaw has kept the pitch lower in the zone and farther inside against righties this season, making it a tougher pitch to hit. Kershaw has registered a MLB-best 111 of his 193 strikeouts (58 percent) using the slider. He's one of just three pitchers with over 100 strikeouts using the pitch. That success has increased his overall strikeout rate to 9.9 per nine innings compared to 9.3 in 2010.
Most Strikeouts with Slider
Left-Handed Pitchers in 2011
Though he's allowed two home runs with his slider against right-handers this season (he yielded none last year) Kershaw still got the win in both outings where he allowed a blast off the pitch. He's getting better than eight outs for every hit he's allowed with his slider this season(opponents batting average: .107), largely because it's been so effective with two strikes. Last season he allowed a hit for every six outs he got with his slider.
Kershaw's outstanding season brings him into the race for the National League Cy Young award. With a Wins Above Replacement of 4.9 (already higher than his 2010 WAR), compared to Halladay's 6.7, he is in the thick of the race for baseball's highest pitching honor.