Continuing our ongoing series, featuring an intriguing player to watch in 2010 from every team in the majors.
Orioles starter Brad Bergesen was in the midst of a primetime-caliber rookie season before taking a Billy Butler line drive to the shin in late July. So how is it that his sophomore campaign was nearly derailed by basic commercial work?
The 24-year-old righty suffered a strained right shoulder capsule in December while filming a team commercial, the oddest Orioles injury since Marty Cordova went overboard in the tanning bed in May 2002.
But Bergesen returned to the mound Saturday, throwing his first bullpen session in seven months – and receiving glowing reviews from coaches and teammates. The fourth-round pick from 2004 could be the strength of a rotation that bemoaned an AL-worst 5.37 ERA last season but added veteran Kevin Millwood in the offseason. That makes him One2Watch4 in 2010.
So just how special was Bergesen's curtailed rookie campaign? Via Baseball-Reference.com. his 3.43 ERA was the lowest by an Orioles starter in his first big-league season since Mike Mussina in 1991 (min. 10 starts).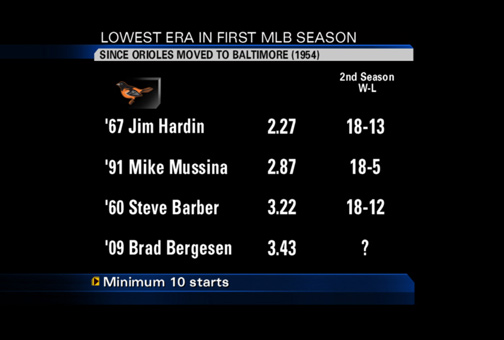 Since the Orioles came to Baltimore in 1954, his mark ranks fourth among first-year starters. If the other three gentlemen on the list are any indicator, we should expect big things from Bergesen in Year 2. Namely, 18 wins. No Orioles pitcher has won 18 games since Mussina in 1999. Lofty expectations for a commercial actor, but a trend never lies.
Bergesen was an anomaly on the Orioles staff last year, and not just because he pitched well. While most of the starting rotation was serving up one-way tickets to Eutaw Street - allowing a league-high 109 home runs at home - Bergesen managed to keep it in the yard. Orioles pitchers allowed 1.32 home runs per nine innings at home in 2009; Bergesen's mark was 0.73.
After allowing three long balls to the Rangers in late April, Bergesen allowed just three homers over his final nine home starts. The result: Bergesen was 7-1 at home with a 2.68 ERA, the lowest by an O's starter (min. 10 starts) since Mussina's 2.65 mark in 1992, the park's inaugural season.
What's most befuddling is how a young righty like Bergesen figured out Camden Yards so quickly. Just look at two of his contemporaries, David Hernandez and Chris Tillman, righties who also made their debuts in 2009.
Hernandez allowed 2.83 home runs per nine innings last season; Tillman, 2.83. Bergesen's 0.73 mark was the lowest by a starter in his first season at Camden Yards since Kevin Brown's lone season in the Charm City in 1995. The only other guy with a lower mark than Bergesen was Mussina in the park's first year.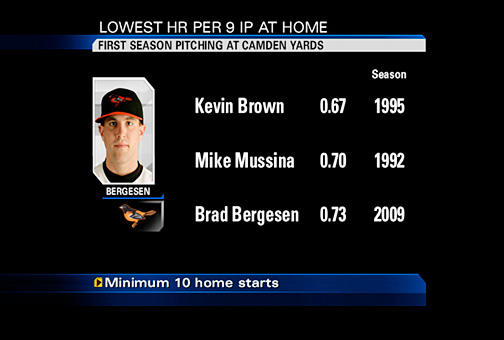 Optimism is the lifeblood of spring baseball, but the feeling seems to be genuine around the Orioles for the first time in years. Experts have lauded Baltimore's young stable of arms, but it could be Brad Bergesen who emerges as the face of the staff. That is, if he sticks with pitcher over pitchman.