In their last 14 games, Tampa Bay Rays' starting pitchers have put up great numbers: they are 6-5 with a 2.55 ERA and 105 innings pitched. They have also allowed only 80 hits and garnered 101 strikeouts.
The Rays starting pitchers are challenging the Philadelphia Phillies starting pitchers for the title of best rotation in the majors. The Rays and Phillies are the only two major league teams to have four pitchers who have made at least 15 starts, and who all have ERAs of 3.50 or lower.
Here are some notes on the adjustments each Rays starter has made this season to reach this point:

Price• David Price has increased the use of his changeup in his last four starts, nearly doubling its usage. He's thrown it about 21 pitches per start over his last four starts.
This came after a seven-start slump in which Price had an ERA of 5.18.
With the changeup added to his arsenal, Price has now beaten the New York Yankees, Boston Red Sox and Toronto Blue Jays, and lost 2-1 to the Detroit Tigers. In those four starts, he's allowed three runs in 31 innings.
• In his last start, James Shields pitched his 10th complete game of the season, becoming the second pitcher since 2000 to throw 10 complete games in a season (CC Sabathia had 10 in 2008).
As we noted earlier this season, Shields changed his pitching pattern this season. He's gone from throwing first-pitch fastballs 65 percent of the time (2010) to just 51 percent of the time in 2011. It's worked.
He's pitched nearly the same number of innings as last season, but decreased his runs allowed from 128 to 71 and home runs allowed from 34 to 22.

Niemann• Jeff Niemann is 8-1 with a 2.57 ERA since returning to the rotation on June 20, averaging eight strikeouts per nine innings in that stretch. That's a significant jump from the 6.5 strikeouts per nine innings he's averaged in the first three seasons of his career.
Niemann has changed the pattern of breaking balls he throws. He's gone from throwing his curveball one in seven pitches to one in four. He's already got more strikeouts with his curveball this season (40) than last season (37) despite having thrown 62 fewer innings.
• Jeremy Hellickson is 4-2 with a 2.72 ERA in his last eight starts. That followed a four-start slump in which he was 0-4 with a 4.74 ERA.
Hellickson has succeeded recently by coming further inside to right-handed hitters. During his slump (heat map on left), right-handed hitters were 7-for-13 with three home runs against inside fastballs.
During his hot streak (heat map on right), righty hitters are 5-for-32 against inside pitches. They've increased the rate by which they've chased such pitches from 27 percent to 40 percent.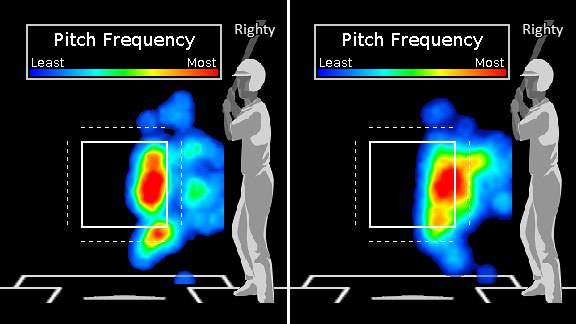 On left: Hellickson's struggles with his fastball during his four-game slump.
On right: Hellickson's success with his fastball over his last eight starts.
Dan Braunstein, Mark Simon and Lee Singer contributed to this story.