The Philadelphia Phillies entered this season with World Series expectations on the strength of a starting rotation that many thought could reach historic performance levels. Injuries have a way of messing up the best-laid plans, and the Phils rotation was no different.
Roy Oswalt and Joe Blanton have started 27 games combined; Blanton isn't guaranteed a spot on the postseason roster and Oswalt may not even crack the rotation.
WorleyThat's because rookie Vance Worley, the Phillies' third-round draft pick in 2008, has been one of the best starters in the National League this season, especially since being recalled from the minor leagues and officially stuck in the rotation on June 18.
He's done it by using his changeup in favor of his slider -- but before he gets to two strikes. Since being recalled in June, Worley has cut his changeup usage in half (14 percent to 7 percent) and nearly doubled his slider usage (12 percent to 23 percent).
And perhaps an even bigger difference is the change he's made with two strikes. Since June, Worley has thrown his fastball less often and his slider more often in two-strike counts. Perhaps that's made his fastball somewhat of a sneaky two-strike offering.
Most Strikeouts Looking
Since June 18 <<
With two strikes he's throwing all of his pitches in the strike zone more often (from 36 to 46 percent). Opponents are missing only nine percent of his two-strike fastballs, way down from 23 percent before his demotion. That hasn't mattered because hitters don't seem ready for the heater.
Since rejoining the big league club on June 18, Worley -- whose fastball averages just 90.2 MPH -- has the second-most strikeouts looking in the major leagues. Only Justin Verlander, he of the 12 straight wins and 95 MPH fastball, has more in that span.
Incredibly, 45 of his 49 called strike threes have come via the fastball, nine more than David Price, who's second in the bigs with 36 over that same span.
As a result, he's got the 11th-best ERA and the 15th-best opponents' batting average in the major leagues since his callup.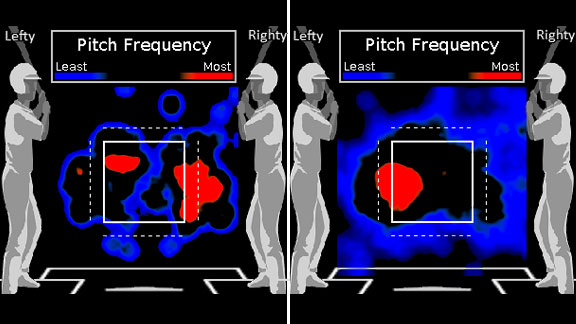 ESPN Stats and Information
Left: Worley's fastball location through before June 18. Right: Worley's fastball location since then.