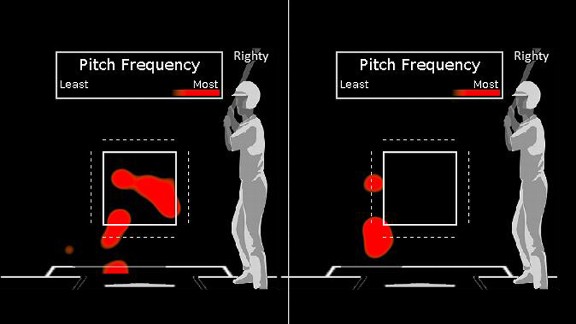 Left: Where Edwin Jackson threw his two-strike slider in July/August
Right: Where Jackson has most thrown his two-strike slider in September/October.
Edwin Jackson's success will be largely predicated on his ability to maintain the success he's had using the slider as a putaway pitch over the last seven weeks.
In his last 11 appearances, including his NLDS start against the Phillies, Jackson has had great success finishing hitters off with his key pitch. He's used it to get 42 outs, while yielding only five hits. His ratio of getting better than eight outs for every hit he's allowed with that pitch is twice the rate that he was getting this season prior to that.
The difference over the last couple of months for Jackson is the location of the pitch. Earlier in the season, Jackson hung a few too many to right-handed hitters over the middle of the plate. But in the last month, the pitch has had a greater drop, hitting the edges of the plate, or tumbling out of the strike zone.
Jackson's slider last 2 seasons
The heat maps above show the difference in Jackson's slider location in July and August versus what it was in September.
The Brewers have seen plenty of Jackson's slider over the last two seasons, and they're a bit overeager against it. Jackson has gotten strikes with his slider nearly 70 percent of the time against the Brewers since 2010. They've chased more than half of the ones he's thrown out of the strike zone. Comparitively, other teams chase that pitch from him about one-third of the time.
Over the last two seasons, Jackson has rung up 18 strikeouts of Brewers batters in four games. Twelve of those have been on the slider, 11 of them swinging-- and all 11 on sliders out of the zone.