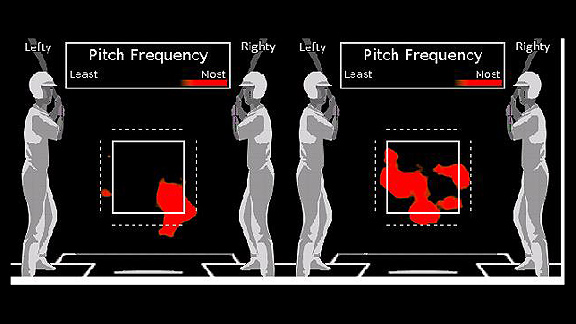 Left: Where Matt Harrison has thrown his off-speed pitches in September/October
Right: Where Harrison threw his off-speed pitches his previous 6 starts (July 28-Aug. 24).
Click here to create your own Harrison heat maps
Matt Harrison takes the mound for the Texas Rangers against the Detroit Tigers on Wednesday afternoon in Game 4 of the ALCS at Comerica Park. He hasn't lost since Aug. 24 and has had great success with his off-speed pitches in his past six starts.
In that span, opposing hitters are hitting 5-for-43 and slugging just .209 on Harrison's off-speed pitches. In three of those starts, all wins, he did not allow a hit on an off-speed pitch. That followed a six-game stretch when opponents hit .310 and slugged .534 when Harrison went off-speed.
Matt Harrison, Past 12 Starts
At-Bats Ending With Off-Speed Pitch
The difference in the past month has been the location of Harrison's off-speed pitches. In six starts from July 28 to Aug. 24, he was leaving his pitches up and over the middle of the plate. In the past month, he has kept his off-speed pitches down and near the edge of the strike zone.
The heat maps above show the difference in location of Harrison's off-speed pitches during his 5-0 stretch in the past month compared to his struggles earlier in the summer.
The Rangers' starting pitchers have yet to complete more than six innings in seven postseason games. According to the Elias Sports Bureau, only two teams have had a longer streak of games in a single postseason in which its starter recorded no more than six innings. The 2005 Angels had nine such games in a row, and the 2002 Angels did so in eight consecutive games.
Texas Rangers' Bullpen
Past 2 Postseasons
Fortunately for Texas, the bullpen has been much better this postseason than it was during last year's World Series run. The bullpen didn't allow an earned run in 12 ⅔ innings in the first two ALCS games in Arlington and is limiting opposing hitters to a .202 batting average.