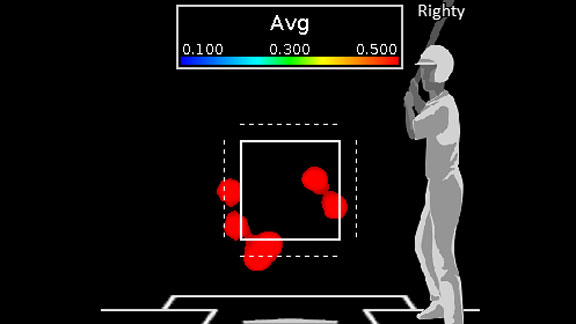 The pitch locations on which Allen Craig has gotten his six hits this postseason.
Click here to create your own Craig custom heat maps and images
Think about how close this World Series has been. The Texas Rangers and St. Louis Cardinals are even in games, even in runs, even in errors and one apart in hits (the Rangers have 11, the Cardinals have 12).
It is a World Series in which pitching has dominated, with the Game 2 starters Colby Lewis and Jaime Garcia matching the efforts that their respective bullpens have put in this postseason.
The pitching has been so good that each team held the other to six hits or fewer in each of the first two games of this World Series. The last time both teams were held to six hits or fewer in Games 1 and 2 was in 1981, when the New York Yankees and Los Angeles Dodgers did so.
According to the Elias Sports Bureau, this is the first World Series in 37 years in which neither team scored more than three runs in either of the first two games. That had last happened in 1974, when the Athletics defeated the Dodgers in five games. The only game of that series which did not end with a 3-2 final score was Game 4, which Oakland won 5-2.

PujolsThe Rangers' pitching has been good enough to hold Albert Pujols to 0-for-6 so far. Pujols is actually just 3-for-21 in World Series play dating back to the start of the 2006 World Series (a series the Cardinals won despite his hitting .200).
The Cardinals' pitching has been good enough to record 16 strikeouts to just three walks in the first two games. Their staff has whiffed 85 hitters and yielded just 25 walks. This could be the first time in Cardinals postseason history that their pitchers finished a postseason with a strikeout-to-walk rate of at least 3-to-1.
Some other noteworthy nuggets gleaned from mining the numbers through these first two games World Series include:

Kinsler• Rangers second baseman Ian Kinsler has four hits, three coming on pitches that were in the lower-third of the strike zone or below the knees.
During the regular season, Kinsler had only a .243 batting average on balls in play (and no home runs) against pitches to that location, a success rate that put him in the bottom 20 percent of major leaguers. But within the small sample of two games, he's been able to produce positive results.
• Similarly, Cardinals pinch-hitter Allen Craig (who may DH in the games in Texas) has been able to hit the knee-level pitch. Both of his pinch-hits in this series have come on pitches that were at the bottom of the strike zone.
The image at the top of this article shows the range of locations on which Craig has gotten his six hits this postseason.
• After giving up three hits in four at-bats against right-handed hitters in the Division Series against the Phillies, Cardinals lefty Marc Rzepczynski has been terrific against right-handers in the last two rounds. They are 1-for-their-past-14 against him.
This is due largely to the effectiveness of his changeup and slider. He's thrown seven of eight for strikes to right-handed hitters in the World Series.