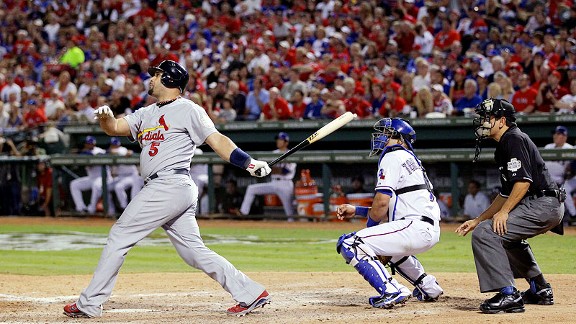 Getty Images/Doug Pensinger
Albert Pujols swings on Saturday will be remembered in the same company as Babe Ruth and Reggie Jackson.
Albert Pujols' legacy was already hallowed prior to his barrage on the World Series records list in Game 3 on Saturday night.
But could it get any better than this game?
The list of milestones from this contest was long and impressive. Let's run through them.
• He's the third player to have three home runs in a World Series game, joining Babe Ruth (1926 and 1928 New York Yankees) and Reggie Jackson (1977 Yankees).
• He's the third player to have six RBI in a World Series game, joining Bobby Richardson (1960 Yankees) and Hideki Matsui (2009 Yankees).
• He's the second player to have five hits in a World Series game, joining Paul Molitor (1982 Milwaukee Brewers). He's also the first to have three games with at least four hits in a single postseason.
Most Runs in a Game
World Series History
• He set a World Series record for total bases in a game with 14.
That's just the beginning of the statistical superlatives for Pujols, who is now tied with Mickey Mantle and Reggie Jackson for fourth-most career postseason home runs (though Mantle has outhomered Pujols in World Series play, 18-4).
Was Pujols' five-hit, three-homer, six-RBI game in Game 3 of the World Series the best offensive game in major league history?
It's in elite company.
Since RBI were deemed an official stat in 1920, it's the 16th game in which a player had five hits, three home runs, and six RBI in a game, the first in postseason history. The last player to have such a combination in a single game was Victor Martinez for the 2004 Cleveland Indians.
Most Runs Allowed By Bullpen
Single Game, World Series History
Pujols is the first Cardinals player to hit those plateaus. He's also the first to reach those benchmarks in a game against the Texas Rangers.
It was all part of one of the greatest offensive outbursts in World Series history. After two games in which pitching dominanted, this should have been expected. As the Elias Sports Bureau pointed out, games at Rangers Ballpark in Arlington netted 41 percent more runs and 50 percent more home runs than Rangers road games. That was the biggest ballpark effect in each of those categories in the major leagues this season.
The Cardinals 16 runs matched the second-most by any team in a World Series game. They became the first team to score first in 10 straight games in a single postseason. That helped manager Tony La Russa to his 68th postseason win, passing Bobby Cox for second-most all-time (16 shy of Joe Torre's record)
Likely to be forgotten, but noteworthy in their own right were a couple other St. Louis sparkplugs. David Freese extended his postseason hitting streak to a franchise-record 13 games, tied for the third-longest in a single postseason.
And Allen Craig's home run made him, via the Elias Sports Bureau, the third player to have an RBI in his first three career World Series plate appearances, joining Dusty Rhodes (1954 Giants) and Ted Kluszewski (1959 White Sox).
On a day in which the Cardinals talled 16 runs and 15 hits, there was one player in the lineup who might want to take a tip from Pujols (who entered Game 3 0-for-6 in the World Series this season). Centerfielder Jon Jay was 0-for-5, the seventh player in World Series history to go 0-for-5 or worse on a day in which his team had at least 15 hits.