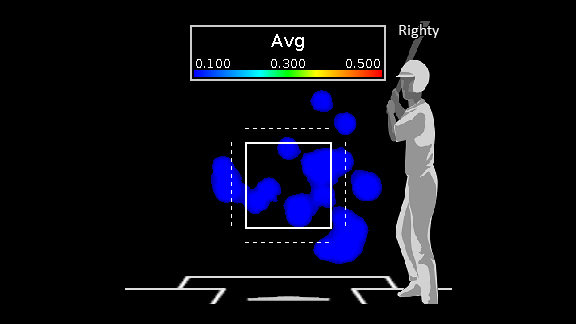 The pitch locations for Derek Holland's 22 outs against right-handed hitters. He got 14 outs with pitches within the inner-third of the strike zone. Click here to create your own Holland heat maps and images.
Texas Rangers starter Derek Holland returned the World Series to a sense of pitching normalcy that prevailed in the first two games. He had one of the best mound performances in quite some time in a 4-0 win over the St. Louis Cardinals in Game 4.
After the blip that was the high-scoring Game 3, Holland put forth a performance that was almost the pitching equivalent to what Albert Pujols put on in his three-homer game. Let's take a closer look at the combination shutout thrown by Holland and Neftali Feliz.
The Rangers are the first AL team to pitch a shutout, allowing two hits or fewer in a World Series game since the Boston Red Sox got a one-hit shutout from Jim Lonborg against the Cardinals in Game 2 of the 1967 World Series.
Most Runs Scored in WS Game
Shut Out in Next Game
With that, Holland is the fourth pitcher in the past 40 seasons to throw at least eight scoreless innings, allowing two hits or fewer in a World Series game, joining Tom Glavine (1995 Braves), Roger Clemens (2000 Yankees) and Kenny Rogers (2006 Tigers).
Holland came within two outs of being the first pitcher to throw a two-hit shutout in World Series play since Nelson Briles of the Pittsburgh Pirates in 1971. Holland's Bill James game score (a metric that rates starting pitching performances on a scale that's usually from 0 to 100) was an 84, tied for the seventh-best by a left-handed pitcher in a World Series game in the live ball era (since 1920).
The Cardinals scored 16 runs in Game 3, the most of any team that was then shut out in its next game in that year's World Series. The Elias Sports Bureau reports that the previous mark was held by the Toronto Blue Jays, who scored 15 runs in Game 4 of the 1993 World Series, then went scoreless in a loss to Curt Schilling and the Philadelphia Phillies in Game 5.
Just as Saturday was the type of thing that could be expected from Pujols, Sunday's effort from Holland wasn't that surprising in this regard: He'd pitched four shutouts during the regular season, tied for the most ever by a Rangers left-hander and the most by any Rangers pitcher since Charlie Hough in 1981.
Holland used his curveball with a frequency not seen since the end of the 2009 season, throwing 15 of 23 for strikes. The 23 curves matched the total thrown in his two LCS starts combined.
He completely changed his pitch pattern on the first pitch of at-bats, throwing 11 first-pitch breaking balls out of 28 first-pitches. Overall, he started 16 of 28 hitters with a first-pitch strike, with not one being put into play.
Highest Game Score by LHP
World Series Game, since 1920
Holland got four of his strikeouts with his slider, one shy of his season-high for strikeouts with that pitch.
Holland and the Rangers put a stop to the Cardinals' vaunted offensive attacks in a number of fashions.
This game snapped the Cardinals' streak of scoring first this postseason at 10 games, one shy of the major league record of 11 set by the Detroit Tigers.
And Rangers pitchers froze David Freese's hitting streak, stopping it at 13 games, one shy of the mark for longest in postseason play by a third baseman (Brooks Robinson) and longest in a single postseason (shared by Marquis Grissom and Manny Ramirez).
With all this, the Rangers kept an impressive streak intact. They haven't lost consecutive games since Aug. 25.