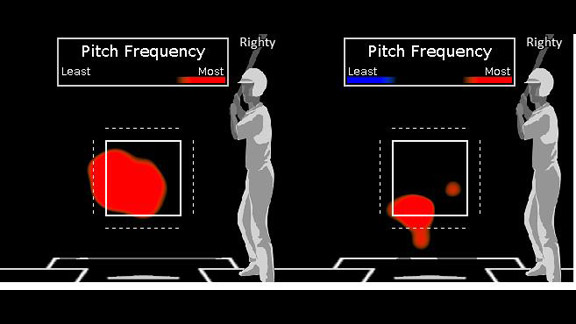 Left: Where C.J. Wilson threw his fastball most often to right-handed hitters through Sept. 11.
Right: Where Wilson threw his fastball most frequently to righties in Game 1 of the World Series.
Click here to create your own Wilson heat maps and images.
The pivotal nature of Game 5 in a best-of-7 World Series knotted at 2-2 can be seen in the following stat: The Game 5 winner in such situations has won the World Series 26 out of a possible 39 times, or two-thirds of the time. So it's apt that each team has its ace on the mound heading into this contest.
Let's take a closer look at some of the keys to Monday's game.
The Starters: A closer look
C.J. Wilson lost Game 1 and fell to 0-3 this postseason largely because of problems locating his fastball.
Against right-handed hitters, he threw just 13 of 27 fastballs for strikes (48 percent), a rate below his season average of 62 percent.

Wilson
Missing with his fastball not only led Wilson to use the cutter more often (44 percent of his pitches to right-handers were cutters, a season-high), but allowed St. Louis to sit on that pitch and drive it.
Of the Cardinals' 17 swings against cutters in Game 1, they made contact on every one -- fouling off eight pitches and putting nine of them in play. Three of those nine went for hits, including David Freese's 6th-inning double that would ultimately be the game-winning run.
The heat maps at the top of the story show the primary location of Wilson's fastball to right-handed batters. The image on the left shows the primary location to them through the date of his last win, September 11. The image on the right shows a change: how Wilson primarily located that pitch in Game 1 of the World Series.

Carpenter
One of the reasons that Chris Carpenter was successful in Game 1 of the World Series was his pitch location to left-handed hitters. Lefties were 0-for-7 against him in that contest.
Carpenter worked inside and outside to lefties with great effectiveness. He threw only one pitch that landed over the middle-third of the plate, width-wise (his other 26 were inside or outside). He got strikes with 11 of the 16 pitches he threw away from a left-handed hitters and twice got Josh Hamilton out with pitches located over the inner-third of home plate.
History Watch
Wilson is chasing history in a bad way. Another loss would make him the first pitcher to lose four times in a single postseason (20 different pitchers have lost three times, including Tom Glavine twice).
Wilson is also looking to avoid this list of pitchers who have gone winless in eight or more straight postseason starts: Al Leiter (11), Dwight Gooden (9), Gary Nolan (9), Randy Johnson (9) and Charles Nagy (8).
Meanwhile, Carpenter can become only the third pitcher in the last 10 seasons to win four consecutive starts within one postseason. According to Elias, the only pitchers to do that over the last decade (2002-2011) were Josh Beckett (2007 Red Sox) and Cole Hamels (2008 Phillies).
From a team perspective, the Cardinals have won their last five postseason Game 5s. The only team in major league history with a longer streak is the Phillies, who won seven straight from 1995 to 2010. The Rangers have lost their last three.
Matchup to Watch
Mike Napoli clubbed a 415-foot opposite field homer against Carpenter in Game 1, the third-longest opposite field home run hit in 2011. He's now 4-for-5 with two home runs against Carpenter.