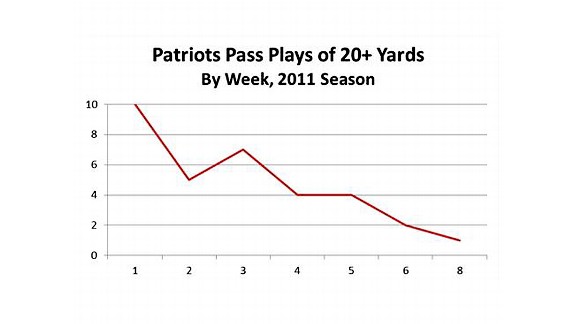 In the last couple of games, the big pass plays have not been as prevalent for the Patriots.
The Pittsburgh Steelers finally figured out a way to beat the New England Patriots with Tom Brady as the opposing quarterback. Keep him off the field and keep the big gains to a minimum.
The Steelers held the ball for more than 39 minutes in their 25-17 win, their first win over Brady since 2004.
One of the keys to the victory was the Steelers performance with an empty backfield. Roethlisberger went 12-for-15 in empty-set formations, with six of the completions netting at least 10 yards, and nine of them resulting in first downs. All of those were personal bests since ESPN Stats & Information began tracking such things in 2008.
Tom Brady
Last 5 Games vs Steelers
Roethlisberger, who started the season with three touchdown passes and five interceptions in his first four games, has thrown for 11 scores and only two interceptions in his last four games. He became the fourth-fastest quarterback to reach 75 victories among QBs who began their careers in the Super Bowl era (106 starts), trailing Brady (99), Roger Staubach (99) and Ken Stabler (105).
His 36 completions (to nine different receivers) and 50 attempts were the second-most he's had of each in an NFL game.
Brady, who was averaging 332 yards passing in his previous four games against the Steelers (all wins), finished with 198 in the defeat. Brady's lack of success on deep throws Sunday was a contrast to last season's trip to Heinz Field. He was just 1-for-5 on pass attempts of at least 15 yards on Sunday, compared to being 5-for-7 for 132 yards on such throws in visit to Heinz Field last season.
As the graph at the top of this story shows, the Patriots are not having the same level of success completing passes for big yardage that they were having earlier this season. They had one such throw Sunday.
This was an unusual sort of loss for the Patriots, who lost despite Brady completing 68.6 percent of his passes and not throwing an interception. A check of Pro-Football-Reference.com showed this to be the first game they lost in which Patriots passers threw for that high a completion rate and had no interceptions since December 8, 1980, a 16-13 overtime loss to the Dolphins.
LaMarr Woodley had two sacks for the Steelers, his third straight game with at least a pair of sacks.
The Patriots streak of eight straight wins in the game immediately following a bye week came to an end. It's tied for the second-longest streak since off-weeks began in 1990.
More Gore Scores
Another big story from the late-afternoon games was the performance of San Francisco 49ers running back Frank Gore, who rushed for 134 yards and a touchdown in a 20-10 win over the Cleveland Browns. The 49ers are now 6-1 for the first time since 1998.

GoreIt was the fourth straight game in which Gore rushed for at least 125 yards AND had a rushing touchdown. Only three other running backs have had that sort of streak since the NFL and AFL merged in 1970—O.J. Simpson (1975 Bills), Terrell Davis (1998 Broncos), and Larry Johnson (2005 Chiefs), with Johnson and Simpson each doing it in five straight games.
It's also the longest streak of consecutive 100-yard games by a 49ers running back since Garrison Heart had 4 straight in 1998.