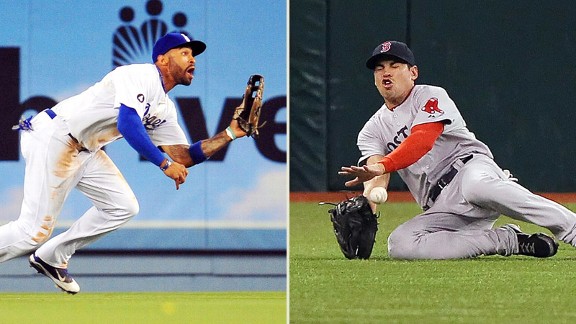 US Presswire
The strong defensive efforts made by Matt Kemp and Jacoby Ellsbury won them Gold Gloves in 2011.
On Tuesday night, ESPN and Rawlings announced the Gold Glove Award winners for 2011. There were 18 players selected for Gold Gloves and nine of them were first-time winners. Here's a closer look at some notable selections this year:
National League
• St. Louis Cardinals catcher Yadier Molina won his fourth consecutive Gold Glove. The last National League catcher to win four straight Gold Glove was Charles Johnson, from 1995 to 1998.
2011 Gold Glove Winners
Video review by Baseball Info Solutions (BIS), a company that charts every pitch of every game, showed that Molina led the majors in blocks of pitches that were in the dirt with 657.
• The Los Angeles Dodgers outfield duo of Matt Kemp and Andre Ethier each won Gold Gloves, with Kemp netting his second and Ethier his first. They're the first pair of outfield teammates to win Gold Glove Awards in the National League since Andruw Jones and Jeff Francoeur for the 2007 Braves. It's also the first time Dodgers outfielders have won Gold Gloves in the same season.
• Philadelphia Phillies third baseman Placido Polanco became the second player to win Gold Gloves at multiple positions, joining Darin Erstad, who won as both an outfielder and first baseman. Polanco also won twice previously as a second baseman.
Polanco, in his second season at third base for the Phillies, saw his errors increase from five in 2010 to eight in 2011. However, a closer look at his defensive skills using advanced metrics shows that he actually made big strides in his defensive play this year.
Polanco finished second to San Francisco Giants third baseman Pablo Sandoval in defensive runs saved, a stat devised by sabermetricians Bill James and John Dewan that measures a third baseman's ability to turn batted balls into outs and defend bunts.
Polanco really improved in turning grounders into outs. Specifically he was much better on balls hit into the areas where third basemen most frequently field balls and balls hit down the third-base line. According to the plus-minus system from BIS, Polanco went from saving five total bases on balls hit to those spots in 2010 to saving 23 bases this year.
American League
• Boston Red Sox centerfielder Jacoby Ellsbury became the first Red Sox outfielder to win a Gold Glove Award since Ellis Burks in 1990. Like Polanco, Ellsbury made a significant statistical jump in his defensive performance from 2009 (his last healthy season) to 2011.
In 2009, he finished near the bottom among center fielders in defensive runs saved, which for outfielders measures their effectiveness at turning batted balls into outs and the value of his throwing arm as a baserunner deterrent. Ellsbury's defense cost the Red Sox nine runs in 2009, but saved them six runs in 2011, tied for sixth-best in the American League.
• One of the more intriguing selections was in left field where Kansas City Royals outfielder Alex Gordon became the first Royals outfielder to win a Gold Glove Award since Jermaine Dye in 2000.
Gordon won on the strength of his major league-best 20 outfield assists, a Royals record and eight more than any other left fielder. However, Gordon's win deprived New York Yankees leftfielder Brett Gardner of his first Gold Glove Award.
Gardner tied for the major-league lead in defensive runs saved, saving the Yankees 22 runs with his defense. Video review by scouts at BIS also showed Gardner leading all left fielders in "Good Fielding Plays," which are similar to Web Gem nominees.