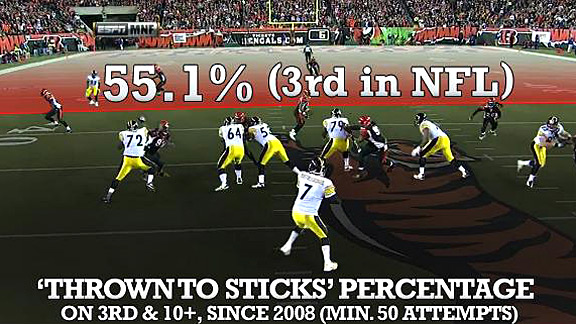 ESPN Stats & Information
'Thrown to Sticks' measures the percentage of passes thrown to or beyond the first down marker.


Two months ago, the Pittsburgh Steelers were embarrassed by the Baltimore Ravens, 35-7, which was the Ravens' biggest win in 34 all-time meetings versus Pittsburgh. Tonight, the Steelers look to get revenge at home in one of most competitive rivalries in the NFL.
Since the 2003 season, the teams have met 19 times and the Steelers hold a slight 10-9 edge in victories. It's been just as close on the scoreboard, too, as the Ravens have outscored the Steelers by only 21 total points and outgained them by an average of fewer than 10 yards per game.
The Steelers offense has been one of the best third-down units in the league this season, with the third-best conversion rate in the NFL (50.9 percent). Pittsburgh also really excels in a situation no team wants to find themselves in: third and long.
Pittsburgh enters Sunday night's matchup against the Ravens ranked fourth in overall conversion percentage (32.3) on third down and 10-plus yards to go. Rather than rely on yards after the catch to move the chains in these situations, the Steelers have succeeded by attempting passes thrown to or beyond the first-down marker.
Ravens and Steelers This Season
3rd Down and 10+ Yds To Go
The Steelers rank last in the league this season in yards after catch per reception on third down with at least 10 yards to go (37 yards on 16 receptions), yet rank third in passing conversion rate (34.5 percent).
Pittsburgh's mentality on third-and-long is that simply completing the pass should earn a new set of downs, rather than completing the pass and still needing to get the remaining yards.
Among quarterbacks with at least 50 pass attempts on third down with at least 10 yards to go since 2008, only Philip Rivers (59.9) and Peyton Manning (56.8) have a higher 'Thrown to Sticks' percentage than Ben Roethlisberger, and only Rivers and Drew Brees (36) have completed more such passes than Roethlisberger (35).
Completion percentage alone on third and long can be a misleading statistic. Consider that Jimmy Clausen's 66.7 completion percentage on third-and-long is the fifth-highest among quarterbacks with at least 30 attempts since 2008, yet his 19.0 conversion percentage on those passes is 37th.
Fewest YAC Per Reception
On 3rd and 10+ Yds, 2011 Season
Combining completion percentage with the requisite number of air yards, however, is a good indicator of success. Teams who refuse to settle for 11 yards on third down and 12 yards to go usually move the chains more often.
The Steelers will be tested on Sunday in these situations against a Ravens defense that leads the league in total defense and ranks second in scoring defense.
The Ravens have also allowed the lowest third-down conversion rate in the league (28.6 percent). In third-and-long situations, opponents have converted just three times in 27 attempts (11.1 percent). Only the Bills (5.6 percent) have held opponents to a lower conversion rate on third-and-long.