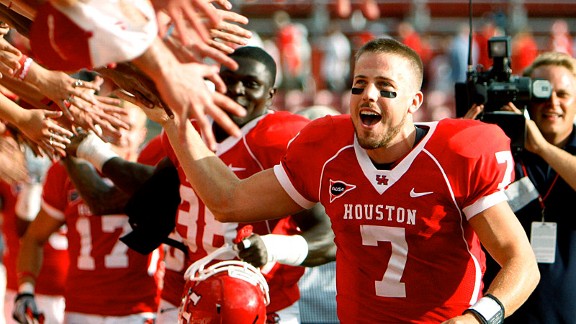 Thomas Campbell/US Presswire
The Houston Cougars are on the verge of celebrating something that hasn't been done in college football in more than 120 years
Nickel Package looks at the top five statistical storylines for the week ahead in college football.

1. The Houston Cougars are off to their best start in school history thanks to a high-scoring attack that has produced at least 49 points in each of their last seven games. That is the longest such streak by any team since Harvard did so in eight straight games in 1887. Yes, that's 1887, not 1987.
This isn't the only streak to watch for Houston. The Cougars have scored at least 35 points in all 10 of their games this season. If they can keep that up throughout the entire season, they would join some elite company.
Among teams to play at least 10 games in a season, only Nebraska scored 35 points in all of its games, doing so in 1995. That Cornhuskers team won the national championship.

2. Michigan State is the highest ranked Big Ten team in the BCS Standings this week at 15th. That's the worst ranking for the highest Big Ten team in the standings since Dec. 3, 2000 when Michigan was 16th.
In fact, since then there have been 85 releases of the BCS Standings and the Big Ten has had a team in the top 10 in all but six of them.

3. Oklahoma visits Baylor this week in search of remaining perfect all-time against the Bears. OU has won all 20 meetings between the schools, outscoring Baylor 749-271.
Of all the other BCS-AQ schools, there are only two other instances where a team has a perfect record against a current conference foe (minimum 10 games).
Penn State is 15-0 all-time against Indiana and Florida State is 15-0 against Duke. Both teams extended those streaks already this season.

4. Iowa State hosts second-ranked Oklahoma State on Friday on ESPN. ISU is 0-18 all-time against teams ranked in the top two of the AP Poll.
This is the first time the Cyclones will meet a top two team that isn't named Oklahoma or Nebraska. Of those 18 losses, 11 have come against Oklahoma and seven have been to Nebraska. The average margin of defeat in those games has been 35.7 PPG.

5. Howard Schnellenberger's Florida Atlantic squad is the only winless team in FBS entering this week's matchup at Troy (0-9).
If the Owls can't get a win in any of their remaining three games, Schnellenberger will become the fourth head coach in the poll era (since 1936) to win a national championship and have a winless season.
The others?
Jim Tatum, Ara Parseghian and Lou Holtz .
Tatum won a championship with Maryland in 1953, but was winless with North Carolina in 1956.
Parseghian was winless with Northwestern in 1957, but later won titles with Notre Dame in 1966 and 1973.
Holtz won a title with Notre Dame in 1988, but was winless 11 years later with South Carolina.