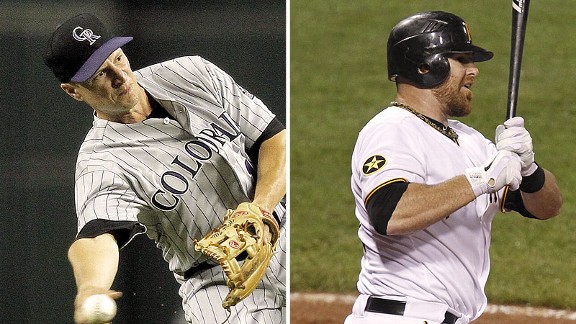 AP Photo
Free agent pickups Mark Ellis (left) and Ryan Doumit (right) each bring positive and negative aspects to their new teams.
Each Sunday, ESPN Stats & Information reviews significant moves from the past week.
Dodgers sign Mark Ellis
Two things to note about the newest Los Angeles Dodgers second baseman, Mark Ellis, using advanced statistical measurements:
1-- Ellis has a good defensive statistical history at second base.
Ellis' presence could be a boost to the Dodgers, whose second basemen ranked tied for third-worst in the majors with -13 Defensive Runs Saved. That metric considers a fielder's ability to turn batted balls into outs and convert double plays.
Defensive Runs Saved
Last 4 Seasons
Ellis finished tied for fifth among second basemen with 10 Defensive Runs Saved in 2011. His 43 Defensive Runs Saved since 2008 rank tied with Dustin Pedroia for third-best among second basemen (largely due to his 24 Defensive Runs Saved in 2008).
2-- Ellis had one of the roughest offensive seasons of anyone in baseball in 2011.
Win Probability Added (charted at Fangraphs.com) measures a hitter's ability to do things that contribute to his team's chance to win (reaching base late in close games has greater value than doing so in a 10-0 game).
Ellis ranked third-worst among anyone who came to bat in 2011 in Win Probability Added. He was viewed as costing his team 3.35 wins with his offensive contributions (2 players rated worse- Alcides Escobar and Alex Rios).
This is likely largely due to his hitting .184 with runners in scoring position in 2011, well below the .337 and .339 he hit the two previous seasons.
Ellis was 6-for-51 in what were termed by Fangraphs as "high leverage" situations. Those are instances in which the Win Probability had the chance of having its greatest swing.
-- Mark Simon
Twins agree to sign Ryan Doumit
The reshaping of the Minnesota Twins continued with their agreeing to terms with catcher Ryan Doumit. His intended use will be as a designated hitter, catcher and first baseman, serving as injury insurance for stars Joe Mauer and Justin Morneau.
It will be interesting to see how the switch-hitting Doumit fares as a left-handed hitter at spacious Target Field.
Ryan Doumit
Career
As a Pirate, Doumit averaged a homer every 26 at-bats batting left-handed and hit a robust .288 with 17 home runs from that side in 441 at-bats over the last two seasons.
That batting average came from a penchant for getting hits with his line drives at a good rate. Over the last two seasons, our pitch-performance data has Doumit as 55-for-65 when hitting a line drive when hitting a line drive from that side of the plate.
Major leaguers typically get hits on about 72 percent of their line drives, meaning that in this span, Doumit has been about eight hits better than the average big leaguer.
Also worth noting: Target Field rated the seventh-toughest park for a left-handed hitter to homer in, according to the Park Factors from Baseball Info Solutions.
While Doumit may have some value as a left-handed power bat, he may not bring much to the Twins defense.
Since the start of 2010, Doumit has thrown out just 16.7 percent of baserunners, second-worst among qualifying catchers. His 13 passed balls rank third-worst over the last two seasons behind Josh Thole (20) and Miguel Montero (14).
According to a study done by Baseball Prospectus' Mike Fast in September, Doumit has cost his teams a total of 66 runs because of his poor pitch-framing skills since 2007, as measured by getting extra strike calls at the edge of the zone. That is the most of any catcher in the last five seasons combined.
Doumit has played fewer than 50 innings at first base since 2007, and none last year. In 251 career innings at the position, he's totaled -4 Defensive Runs Saved.
Mark Simon & Katie Sharp