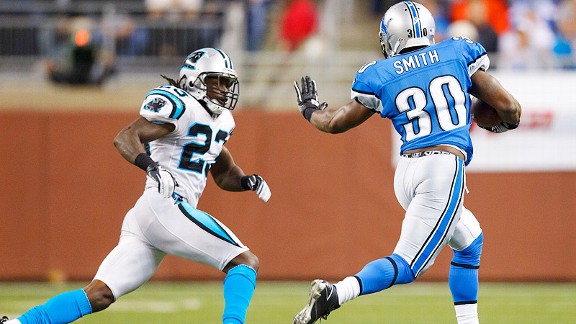 Rick Osentoski/AP Photo
Kevin Smith's game on Sunday evoked statistical comparisons to Barry Sanders.
It was an afternoon of both firsts and comebacks for the Detroit Lions on Sunday.
Via the Elias Sports Bureau, the Lions became the first team in NFL history to win three games in which it trailed by at least 17 points in the same season. The Lions trailed the Minnesota Vikings 20-0 and the Dallas Cowboys 27-3 in games earlier this season, but won both of them.
On Sunday, they rallied from a 24-7 deficit against the Carolina Panthers on the strength of quarterback Matthew Stafford, who became the first Lions quarterback with multiple five-touchdown games in his career.
The only other Lions quarterback with a five-touchdown game in his career was Gary Danielson in 1978.
Stafford was helped by running back Kevin Smith, who had 140 yards on 16 carries. Only one Lions player since 1960 has had a game with a higher yards per attempt (minimum 15 attempts) than his average of 8.8 yards per carry -- Barry Sanders (he did so five times).
This was the fifth game since 1950 that Detroit scored at least 49 points, and the first since scoring 55 in a Week 14 win over the Bears in 1997. Their 35 second-half points matched the Buffalo Bills for the most second-half points in a game this season and tied for their second-most second-half points in a single game since 1940.
Packers keep winning
30 Pass TD in Team's 1st 10 Games
NFL History
• The Green Bay Packers didn't need a big comeback, but they improved to 10-0 with a little bit of struggle in their win over the Tampa Bay Buccaneers.
Aaron Rodgers, who entered the day having completed 73 percent of his passes when lined up under center, struggled in such situations on Sunday, completing just 5-of-12 attempts. But in shotgun, Rodgers thrived, going 18-for-22 for 275 yards and two scores.
Rodgers became the fifth quarterback to throw at least two touchdown passes in each of his team's first 10 games in a season. The record is 13, set by Peyton Manning for the 2004 Indianapolis Colts.
The Packers are the third defending Super Bowl champions to start the season 10-0, joining the 1990 San Francisco 49ers and 1998 Denver Broncos.
Rice, Ravens power past Bengals
• The Baltimore Ravens edged the Cincinnati Bengals, 31-24, thanks partly to a big game from running back Ray Rice.

RiceRice rushed for 104 yards, 98 of them coming between the tackles, including both runs that resulted in rushing touchdowns.
Entering the game, Cincinnati had allowed 3.24 yards per rush between the tackles, the fewest in the NFL, and no team had rushed for more than 4.0 yards per carry in any game this season. But Rice averaged 5.8 yards on his 17 carries in this victory.
Stats of the Day (via Elias Sports Bureau)
The Dallas Cowboys comeback win over the Washington Redskins made Tony Romo 18-2 in November, matching Hall-of-Fame quarterback Otto Graham for the most wins in a quarterback's first 20 November games in NFL history.
• The Miami Dolphins, who routed the Buffalo Bills, joined the 1978 Cardinals and 1986 Colts as the only three teams to win three straight games after starting 0-7 or worse. They also had their fifth blocked punt returned for a touchdown, and their first since 1990.