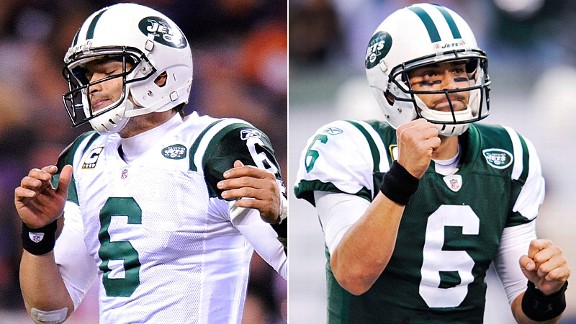 AP Photo
Mark Sanchez rebounded from a rough loss to the Broncos with a clutch performance late against the Bills.Last week, New York Jets quarterback Mark Sanchez watched his team get beat at the end by Denver Broncos quarterback Tim Tebow.
On Sunday, Sanchez responded with a performance that bore some similarities to that which beat his team last week. He dealt with a sluggish start, but came through with some clutch plays late to beat the Buffalo Bills.
Sanchez didn't let some of his struggles get in the way of his most important pass, a 16-yard go-ahead touchdown to Santonio Holmes with 1:09 left in the game.
Sanchez was 1-for-8 with an interception when targeting Holmes prior to that pass, his final pass of the day, and 1-for-11 dating back to halftime of the Jets last game against the Broncos.
Sanchez Passing by Distance Downfield
Sunday vs Bills
It was also only the second completion in nine attempts in the game for Sanchez on throws that went at least 15 yards beyond the line of scrimmage. His first came on the play before, a completion to Plaxico Burress that set up the Holmes score.
Sanchez became the third quarterback since 1999 to throw at least four touchdown passes in a game in which he had a sub-50 percent completion rate (he finished 17-for-35). The others to do so in that span were Trent Edwards in 2007 and Peyton Manning in 2009.
Coincidentally, the last Jets quarterback with that statistical combination was Joe Namath, also against the Bills in 1968.
Sanchez overcame his issues by going 6-for-8 for 61 yards on the final drive. He was effective earlier in the game with short throws, with three touchdowns on passes that traveled 14 yards or fewer from the line of scrimmage.
The Jets have specialized in winning close games over the last two seasons. They are 9-4 in regular-season games decided by eight points or fewer in that span, including 3-1 this season.
From a Bills perspective, the loss of running back Fred Jackson to a season-ending injury was noticeable.
His replacement, C.J. Spiller struggled to gain any ground up the middle against the Jets' defense.
Jackson ranked third in the NFL in yards per carry between the tackles (6.2 per rushing attempt) and led the league with six 20-yard rushes on carries up the middle this season. Spiller was held to 17 yards between the tackles on his six carries Sunday.
In the NFL's other early-afternoon games:
Bengals tie comebacks record
The Cincinnati Bengals got their third win this season that required coming back from a double-digit halftime deficit, tying an NFL record. The mark is shared with four other teams, including this year's Detroit Lions.
Falcons, Ryan rolling
Atlanta Falcons quarterback Matt Ryan completed 79.4 percent of his passes, the second-best rate he's had in a game, in a win over the Minnesota Vikings. It was the best rate by a Falcons quarterback with at least 30 pass attempts in a game. Wide receiver Roddy White tied Andre Rison's team record for most games with at least 10 receptions (7).
Colts keep losing
The Indianapolis Colts quest for imperfection continued with a loss to the Carolina Panthers. The Colts fell to 0-11 for the first time since 1986.
They are the 11th team since the 1970 merger to start 0-11 and the first since the Lions went 0-16 in 2008.
Panthers quarterback Cam Newton becomes the first rookie in NFL history with 10 rushing touchdowns and 10 passing touchdowns in a season.