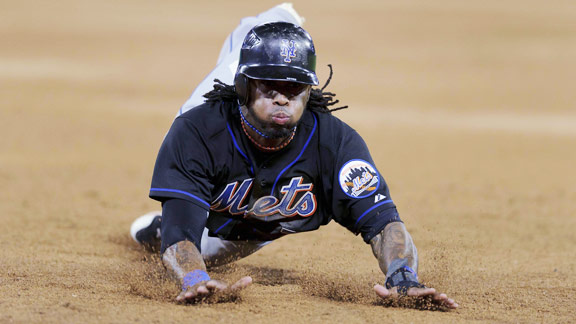 Steve Mitchell/US Presswire
Jose Reyes will bring his high-energy style of play to the Miami Marlins in 2012
Free-agent shortstop Jose Reyes and the Miami Marlins agreed to terms on a 6-year, $106 million contract Sunday. It's the second-largest contract in total value ever given to a shortstop behind the $252 million deal signed in 2000 by Alex Rodriguez, and it also more than doubles the largest contract ever given out by the Marlins.
It's been a busy last few months for the Marlins, beginning with the hiring of manager Ozzie Guillen in September. Since then, the team has unveiled new uniforms, a new ballpark and a name change, as well as signing free-agent closer Heath Bell.
Biggest Free Agent Signing Shortstops (Total Value)
The addition of Reyes means one of the year's top free agents is now claimed. Among free-agent position players, Reyes had the best 2011 season based on Wins Above Replacement, but injuries have been a concern lately. After playing in an average of 158 games a season from 2005 to 2008, Reyes has dealt with injury issues in each of the past three seasons, playing 36, 133, and 126 games from 2009 to 2011.
When he has played, he's been more productive at the plate in the last three years, however. From 2005 until 2008, Reyes batted .287 with an OPS of .783. In the last three seasons, those numbers have risen to .306 and .804 respectively.
In 2011, Reyes won the NL batting title with a .337 average, and his .379 average against fastballs, cutters and sinkers was the best in the National League.
Highest WAR Among Current Free Agent Position Players, 2011 Season
His value on the bases is also a big upside; since 2005, Reyes ranks second among active players in stolen bases (338) and first in triples with 93. He ranks fourth among shortstops in that span with 30.5 Wins Above Replacement, trailing Jimmy Rollins (31.1), Hanley Ramirez (31.1) and Derek Jeter (30.8).
The addition of Reyes likely means that Hanley Ramirez will be moving to third base. Both have missed significant time due to injury in the last two years, but when they were on the field last season, Reyes was a more productive player. He posted a career-high BABIP of .353, well above his .314 career BABIP. Ramirez, however, saw a career-low BABIP of .275.