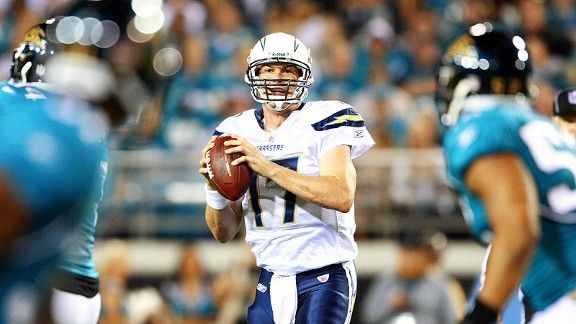 Douglas Jones/US Press
Philip Rivers turned in his best performance of the season Monday (98.1 Total QBR), throwing for three scores.
Despite losing six straight games entering Monday night's game against the Jacksonville Jaguars, the San Diego Chargers' 38-14 win puts them just two games back of the Oakland Raiders and Denver Broncos in the AFC West.
Philip Rivers On Road This Season
San Diego tied a season high for points behind 294 yards and three touchdowns from Philip Rivers. The Chargers' struggling quarterback did not throw an interception for just the third time this season.
Rivers excelled out of the shotgun Monday, completing 93.3 percent of his passes for an average of over 13 yards per attempt and two scores.
Ryan Mathews also had a big game for San Diego, running for 112 yards -- 105 of those yards came between the tackles and 59 yards came after contact.
The Chargers quick-strike offense scored on passes of 22, 35 and 52 yards and on runs of 13 and 31 yards.
According to the Elias Sports Bureau, the last time an NFL team had three touchdown receptions of at least 20 yards and two rushing touchdowns of at least 10 yards in a game was when the Vikings did it on Dec. 9, 2001 in a win over the Tennessee Titans.
The Jaguars, meanwhile, have not scored more than 20 points in any of their 12 games this season. That hasn't happened since the 1993 Cincinnati Bengals "accomplished" the feat.
The Seattle Seahawks went the entire 1992 season without scoring more than 20 points in a game, the only NFL team to do so in a 16-game schedule.

Jones-DrewMaurice Jones-Drew had another productive game despite Jacksonville's overall offensive futility, totaling 188 yards from scrimmage (97 rushing, 91 receiving). Jones-Drew's performance was the most total yards from scrimmage for a running back in a loss this season.