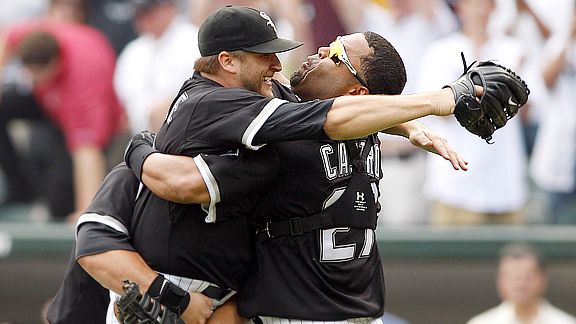 Jerry Lai/US Presswire
Mark Buehrle, shown here celebrating his perfect game, heads to a team that is spending with hopes of future celebrations.
The Miami Marlins have made their mark at baseball's winter meetings.
Now they've gotten one of their marks, as in former Chicago White Sox pitcher Mark Buehrle, who agreed to terms on a four-year deal with the team today.
Buehrle has a reputation of being one of baseball's most statistically consistent pitchers
What do we mean by that?
• He's had 11 straight seasons of 200 innings and at least 10 wins. The next-longest current streak of any major league pitcher is seven seasons by Dan Haren.
150 Wins, ERA Below 4.00
Active Pitchers
• Buehrle has made the most starts and pitched the most innings since 2001. He's also fourth-best in that span in wins (157) and complete games (27).
• He's had nearly identical numbers the last three seasons – 13 wins in each year, a strikeouts-per-nine innings rate ranging from 4.2 to 4.8, a walks-per-nine-innings rate from 1.9 to 2.1, and ground ball rates ranging from 44 to 47 percent.
• His Wins Above Replacement in these three seasons—- 3.4, 3.7, 3.4.
One thing that Buehrle will give the Marlins that they lacked last season is a left-handed starter in their rotation.
The Marlins got just 12 starts from left-handed pitchers last year (all were from rookie Brad Hand, who was 1-8 with 4.20 ERA). That was the fewest starts from left-handers by any NL team.
Why would the Marlins want left-handed pitching? In 2011, the only NL East team with a winning record vs southpaw starters was the Philadelphia Phillies (30-14).
He does come at a hefty price of $58 million over four years, which reunites him with his former manager with the White Sox, Ozzie Guillen.
That's the second largest free agent contract given by the Marlins, topped only by the deal given to Jose Reyes a few days ago.
Largest Free Agent Contracts
Marlins Franchise History
The Marlins have now committed $191 million in contracts (that they or another team will pay) for three free agents (Heath Bell, Mark Buehrle, and Jose Reyes).
That is approximately $20 million more in contracts than they awarded to free agents in the previous 14 offseasons combined ($170 million in contracts awarded from 1997-10).
The only other team in the last five offseasons (since 2007) to award at least $190 million in free agent contracts in a single offseason was the New York Yankees. In the 2007-2008 offseason, they committed $396 million, then topped that with $441 million in contracts in 2008-09.
Buehrle leaves behind a positive legacy in Chicago. He ranks fourth in White Sox history in both games started (365) and strikeouts (1,396) and ranks sixth on the team's all-time wins list (161).
He's also one of three pitchers to pitch multiple no-hitters, including a perfect game, and win a World Series title for the same team. The other two are baseball legends: Hall-of-Famers Cy Young (Red Sox) and Sandy Koufax (Dodgers).