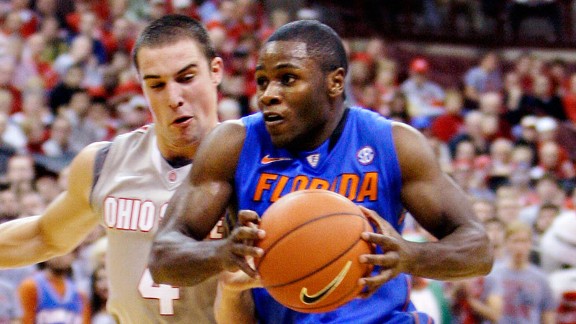 AP Photo/Jay LaPrete
Aaron Craft could cause issues for Kansas with his defense on Saturday.
Saturday's clash between the Ohio State Buckeyes and Kansas Jayhawks features a pair of notable matchups to watch-- a highly publicized one in the frontcourt, and an intriguing one in the backcourt.
Let's take a closer look with help from our Synergy Sports video review tool:
Jared Sullinger (Ohio State) vs Jeff Withey & Thomas Robinson (Kansas)
Sullinger has had significant success with post-up moves in the Buckeyes offense this season.
Video review shows that he is getting to the foul line nearly 40 percent of the time on post-up plays, going 26-for-28 when he gets there. When he gets his shot off, he's making it better than half of the time.
Jared Sullinger Post-Up Offense
This Season
Kansas head coach Bill Self has to decide which of his two big men he'll put on Sullinger. Chances are that both will be put to use.
Withey could have a tough time because, statistically speaking, he doesn't defend post-ups well. Withey has yielded 0.81 points-per-post-up play, a rate that ranks 11th out of the 14 players in the Big 12 that have defended at least 10 such plays.
Withey and Robinson are both shot blockers. Withey is blocking two-point shots at a rate of about one for every seven taken against him, which ranks third in the Big 12. Robinson is averaging 1.5 blocks per game, which is more than double his average from last season and third-best in the Big 12 (one spot behind Withey's 2.9).
Because of Robinson's shot-blocking prowess, opposing players are taking more outside jumpers when guarded by him, but with little success.
Opponents are 3-for-24 on jump shots while defended by Robinson. He is allowing 0.43 points per play when in these situations, ranking first in the Big 12 (minimum 20 plays defended).
He'll have done his job if he can force Sullinger into taking shots away from the hoop. Sullinger is 5-for-15 on jumpers in seven games this season.
Robinson's strength is that he can limit Sullinger's putbacks (which have accounted for 18 of his points in the seven games tracked).
Robinson has dominated the opponents' glass grabbing 32 percent of available defensive rebounds while on the floor, the second-best mark in Division I.
Tyshawn Taylor (Kansas) vs Aaron Craft (Ohio State)
Taylor will face a great challenge in going up against Craft, who rates very well in two defensive areas important to the matchup.
Taylor is scoring at a good rate this season (16.8 points per game), but has significant ballhandling issues.
Among the 80 players in the "Power 6" Conferences with at least 25 assists, Taylor is just one of four that has more turnovers (32) than assists (29).
He has turned the ball over on at least 28 percent of his personal possessions in each of the last five games and was at his worst in the Jayhawks' loss to Duke. In that game he set a school record with 11 turnovers, coughing the ball up nearly 50 percent of the time.
Taylor has really struggled to hold onto the ball on pick-and-roll plays. He has turned it over on eight of his 32 possessions as the pick-and-roll ball handler, a 25-percent turnover rate that ranked eighth-worst in Division I and worst in the Big 12 (for players with a minimum of 30 plays tracked on video review).
Four of those eight turnovers came in the Duke game, including three on high pick-and-roll plays (those taking place beyond the foul line).
Craft is tied for the Big Ten lead with 23 steals and is forcing turnovers at a high rate-- 28 percent of the time as an on-ball defender.
Catch-and-Shoot Plays
This Season
He has been most effective in creating miscues when defending the pick-and-roll ball handler –- the same thing that is Taylor's Achilles heel.
Craft is forcing a turnover on 39 percent of those plays, which is tops in the Big Ten and sixth-best in the nation (minimum 15 plays reviewed).
Craft is also a whiz at preventing his opponent from scoring on catch-and-shoot plays.
The chart on the right notes the effectiveness of both players in those situations. Taylor will be challenged to match his prior performance in this matchup.
Mark Simon and Paul Carr also contributed to this post