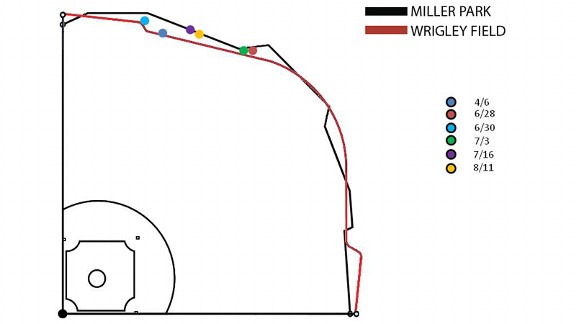 The plotted locations for Aramis Ramirez's six home runs at Wrigley Field last season that would not have been home runs at Miller Park.The Milwaukee Brewers are hoping that Aramis Ramirez can find Milwaukee as much to his liking as he did Chicago.
The three-year contract to which he and the Brewers agreed is the biggest in Brewers history for a free agent in terms of average annual value. He'll replace Casey McGehee as the team's everyday third baseman.
Historically Wrigley Field lived up to its "friendly confines" billing for Ramirez during his eight-season stint there.
In 2011, Ramirez hit .332 at home, with 14 home runs, 49 RBI, and a .557 slugging percentage, one nearly 100 points better than his road slugging numbers.
Over the past four seasons, Ramirez had a .972 OPS at Wrigley, the ninth-best of any player in his home ballpark in that span.
Though Miller Park is more statistically friendly to right-handed power hitters than Wrigley Field, video review by ESPN HR Tracker showed that, six of Ramirez' 14 home runs hit at Wrigley Field in 2011 would not have been home runs at Miller Park.
2011 Brewers MLB Ranks
3rd Base Production
That's because Milwaukee's home ballpark is a bit deeper in left center field than Wrigley Field is (the difference appears to range from three to 16 feet), and that's the area to which Ramirez tends to homer most frequently.
The image at the top of this article shows the ballpark dimensions for Wrigley (in red) and Miller Park (in black) and the landing spots of those six home runs. Four of the six would have been very close to leaving the ballpark, but video review judges them to be just short.
Ramirez did not homer to right field at home in any of the last three seasons, so Miller Park's dimensions being shorter to that side, don't figure to benefit him.
The best skill that Ramirez brings to the Brewers lineup is the ability to hit breaking pitches. Over the last two seasons, Ramirez is among the best hitters both at those that are the most hittable.
Ramirez had an .885 OPS in at-bats that ended with breaking pitches over the last two seasons, fifth-best of anyone in the major leagues. His performance was comparable with the likes of Miguel Cabrera, Jose Bautista and Robinson Cano, those considered among the best hitters in baseball.
Defensive Runs Saved
Keys for Success (Third Base)
Ramirez's biggest issues are on defense at the hot corner. The Brewers made a statistical upgrade on the defensive side by signing Alex Gonzalez to play shortstop. But the stats show that playing Ramirez to Gonzalez's right could be costly.
In each of the last four seasons, Ramirez has posted a negative Defensive Runs Saved, with that metric showing that he has cost his team 35 runs in that span. That's third-worst among major league third basemen. Ramirez's plus-minus rating on ground balls showed him to be 54 bases below the average third baseman since 2008.
For more on Ramirez's defensive struggles last season, check out our previous piece on the subject.
Mark Simon, Jacob Nitzberg, and Tom McKean contributed to this post