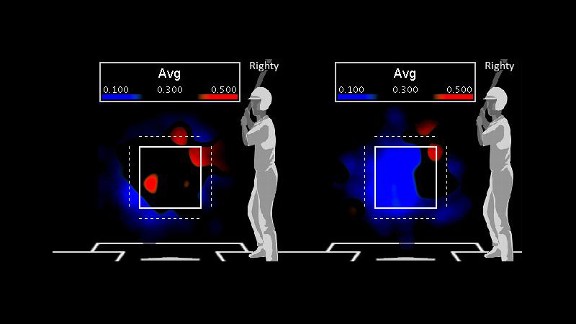 Left: Casey McGehee's hot and cold zones against offspeed pitches (2009-2010)
Right: McGehee's hot and cold zones against offspeed pitches (2011)
Click here to create your own McGehee heat mapsStats & Information reviews the week in MLB moves each Sunday
Pirates trade for 3B Casey McGehee
The Pittsburgh Pirates will try to help McGehee return to the quality of production he achieved in 2009 and 2010 after a disastrous 2011.
McGehee's struggles last season were largely due to issues hitting offspeed pitches (curveballs, sliders, and changeups).
In 2009 and 2010, McGehee hit .285 against offspeed pitches, with 16 home runs.
Casey McGehee
vs Offspeed Pitches
McGehee had 199 at-bats end in offspeed pitches in 2011. In simplest terms, McGehee went from ranking among the top 10 percent of hitters against offspeed pitches to the bottom 10 percent (the heat maps at the top of this piece show the difference).
If he had matched the level of production he averaged in 2009 and 2010, pro-rated to 199 at-bats, his end-of-season line would have looked completely different.
It would have included 26 more hits and four more home runs, giving him an end-of-season batting average of .271 (instead of .223) with 17 home runs (instead of 13).
That sort of line would be a major statistical offensive improvement for the Pirates at third base in 2012. Over the last five seasons, their third basemen have hit .241 and averaged 13 home runs per season, both fourth-worst in the majors in that span.
-- Mark Simon
Rockies sign Michael Cuddyer
Should the Colorado Rockies elect to play Cuddyer regularly in the outfield, they'll have to deal with some of his statistical shortcomings.
There are two components to the metric Defensive Runs Saved. One of them, Plus-Minus rating, deals with the ability to turn batted balls into outs.
Explaining Plus-Minus
Definition
Over the last six seasons, Cuddyer's inability to turn batted balls into outs when he played right field, cost the Twins 58 runs, the most for any right fielder.
Much of that was due to difficulties getting to balls in the deepest parts of right field, where by Baseball Info Solutions measure, he rated 94 bases worse than the average player at the position.
The spacious outfield of Coors Field could make that position particularly challenging for Cuddyer. The Rockies yielded 70 doubles and triples to right field/right-center field last season, the most of any National League team.
Though Carlos Gonzalez is considered by many in baseball to be a good defensive outfielder, it should be noted that the Rockies outfield play was a statistical weakness last season.
They were the only team in the National League whose defensive performance at all three outfield positions cost the team runs.
Cuddyer can make up for those deficiencies in one regard. The other component of Runs Saved measures the deterrent value of one's throwing arm. Since 2006, Cuddyer's arm has saved his team 33 runs, third-most of any right fielder in the majors in that span.
-- Mark Simon
Phillies sign Dontrelle Willis
Though Willis has made just three career relief appearances, his platoon splits over more than 200 starts show that he has the potential to be an effective lefty specialist out of the bullpen for the Philadelphia Phillies next season.
Dontrelle Willis Career
Willis' career .562 OPS allowed vs lefties ranks third among active pitchers behind only Mariano Rivera and C.J. Wilson (min. 800 PA).
Despite finishing the season with a 5.00 ERA, Willis had one of his most impressive seasons against lefties in 2011, holding them to a .127 average with a strikeout-to-walk ratio of 20-to-2.
His success against same-sided batters was largely the result of a slider that he was able to consistently locate low-and-away from lefties. The heat map below shows where he located his slider most often to lefties.
Hitters missed on over 50 percent of their swings against his slider, including more than three-quarters of the time when the pitch was thrown out of the strike zone.
Willis fits in this role for the Phillies because the other lefty on their current staff, Antonio Bastardo has platoon splits (.623 OPS vs right-handed hitters, .653 vs lefties) that are more evenly balanced than Willis'.
Willis' platoon splits don't make him well-suited for facing righties. His career 227-point difference between his opponents OPS against lefties and righties (.562 vs .789) is the biggest among active pitchers.
-- Katie Sharp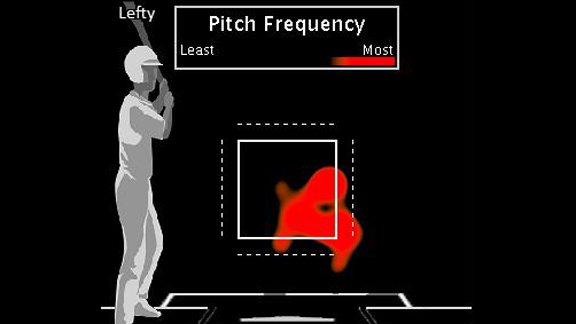 Where Dontrelle Willis located his slider to lefties last season
Click here to create your own Willis heat maps