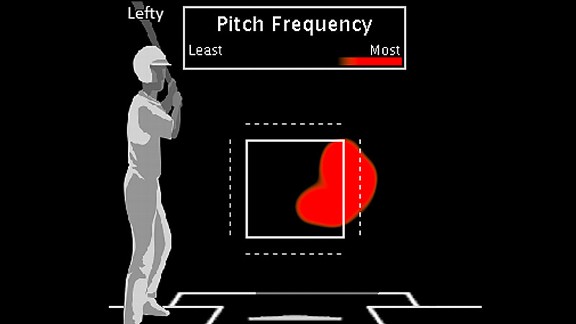 Left: Where Andrew Bailey pitched left-handed hitters last season.
Click here to create your own Bailey heat maps
The Boston Red Sox completed their bullpen makeover with the acquisition of a pitcher who, in certain respects, ranks among the best closers in the game, in ex-Oakland Athletics reliever Andrew Bailey.
Bailey is someone who was very comfortable pitching in his home ballpark, The Coliseum. He was 12-for-12 in save chances there last season, the fourth-most saves for any pitcher who didn't blow a save at home last season. Bailey has converted 19 straight save chances at home dating back to May of 2010.
Bailey had great peripheral numbers at home last season-- a 27-to-3 strikeout-to-walk ratio and did not allow a home run in 24 2/3 innings. Pitching in smaller ballparks on the road, Bailey's numbers weren't as good- he yielded three homers in 17 1/3 innings.
One thing that may have appealed to Boston is that in a limited sample, Bailey has pitched well against AL East opponents. In 38 career appearances against the Blue Jays, Orioles, Rays and Yankees, Bailey is 21-for-21 in save opportunities.
Best Opponents OBP vs LHB
Right-Handed Pitchers (Since 2009)
Bailey had three saves in three appearances in Yankee Stadium in 2011, though he was a little shaky, giving up four hits and three walks in three innings.
Bailey's forte is that he is a right-handed pitcher who can get both right-handed and left-handed hitters out. He's one of six pitchers to hold both righties and lefties to a sub-.200 batting average (minimum 300 batters faced on each side).
Over the last three seasons, lefties have only a .254 on-base percentage against him. That's the third-best mark among right-handed pitchers, behind Neftali Feliz and Mike Adams, both now of the Texas Rangers.
Bailey's method of getting left-handers out is to pitch them away. Bailey threw nearly two-thirds (63 percent) of his pitches to lefties on the outer third of the plate or further away, a rate that ranks among the top 15 percent among major league pitchers. The heat map atop this story shows his primary pitch location to lefties.
Pitch-wise, Bailey predominantly will throw them his fastball and cutter, with those two pitch types accouting for 85 percent of his pitches to lefty hitters last season, the third-highest combined rate for those two pitches in the majors.
The Red Sox gave up Josh Reddick, who was impressive at times for the Red Sox last season on both the offensive and defensive ends. He rated above average in advanced defensive metrics last season, with eight Defensive Runs Saved in just over 600 innings (80 games).
Sweeney has performed similarly, with his best defensive season coming in 2009, when he ranked fifth among all outfielders with 20 Defensive Runs Saved (he cost his team one run with his defense last season).
Sweeney's strength in 2009 was turning batted balls into outs at an above-average rate, regardless of depth, which will be tested when he deals with the funky outfield gaps at Fenway Park.