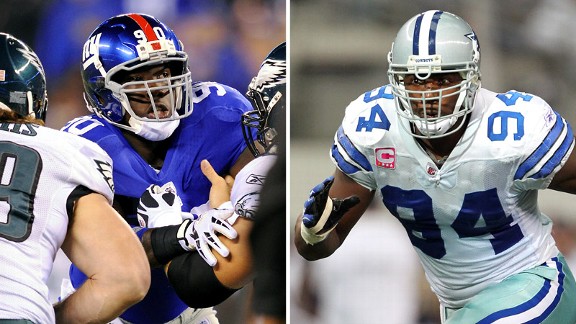 Icon SMI/US Presswire
Jason Pierre-Paul (left) and DeMarcus Ware (right) could be pivotal figures in Sunday's showdownWith Eli Manning and Tony Romo combining for 721 pass yards and six touchdowns in the New York Giants' 37-34 victory over the Dallas Cowboys in Week 14, defense was a bit of an afterthought.
However, when the two teams meet Sunday night for the NFC East title, two of the most important players to watch for will be rushing the passer: Jason Pierre-Paul of the Giants and DeMarcus Ware of the Cowboys.
In Week 14, Pierre-Paul recorded two sacks –- one of which was a safety –- and blocked Dan Bailey's game-tying field goal attempt.
The Giants relied heavily on a four-man rush against the Cowboys in Week 14, sending four or fewer rushers on 24 of Tony Romo's 32 dropbacks, the Giants' fourth-highest rate of the season. Pierre-Paul recorded both of his sacks in such rushes and has been one of the hardest defenders to stop in those situations all season.
Most Sacks
In Situations Rushing 4 or Fewer
Pierre-Paul's active arms, as seen on that blocked kick, are also prevalent in his ability to swat down passes. Since the start of the 2010 season, no defensive lineman has batted or defended more passes than Pierre-Paul (15), whose eight this season are second-most on the Giants.
Romo is not the easiest quarterback to bat passes down against.
After having four passes batted down at the line of scrimmage in his first five games this season, he's only had one pass batted down in his last 10 games, in which he's made 292 pass attempts.
For the Cowboys, Ware had a quiet game against the Giants in Week 14. He was held without a sack for the fourth time this season despite rushing the passer 33 times. However, Ware's versatility always makes him a tough assignment.
Ware's 18 sacks this season are tied for second-most in the NFL, but unlike the other top pass rushers in the league, Ware has done his damage from both sides of the line.
At Least 4.0 Sacks From Each Side of Line
2011 Season
Ware is just one of four defenders with at least 4.0 sacks when lining up on either the left side of the defense or the right side. By comparison, Pierre-Paul has recorded 12.5 of his 15.5 sacks when starting on the defense's right side.
In contrast to Pierre-Paul's ability to get to the quarterback in standard pass rush schemes, Ware is at his best when the Cowboys send extra rushers.
Ware has picked up a league-high nine sacks when a part of a five-plus man pass rush, 2.5 more sacks than the next highest rusher (Connor Barwin, 6.5).
Ware has lined up on the right side of the line on just under 70 percent of his snaps played, which means he is more likely to bring down the quarterback when lining up on the defense's left.
Manning was ready for Ware in the first go-around and has a lot of experience in passing against teams sending five or more rushers this season. His 208 attempts are 34 more than anyone in the NFL.
Manning's completion rate against five-man rushes (55 percent) is right at the league average, but when he hits a pass against the blitz, his 16.5 yards per completion is the best in the NFL.
Regardless of where Pierre-Paul or Ware line up Sunday night, the offensive lines will have to take notice. Only Jason Babin has more games (six) with multiple sacks this season than Pierre-Paul and Ware (five each).
Mark Simon also contributed to this post