One of the things we do in Stats & Information is come up with notes and tidbits that earn the billing of Next Level. These are nuggets that go beyond the box score in an attempt to tell the story of a game, moment, or player in a different manner.
With the calendar year about to end, we went back through our files and found 10 of our favorite Next Level notes.
Justin Verlander no-hitter (May 7)

LincecumIn Verlander's second career no-hitter, he saved his heat for the end of the game, averaging 99 miles-per-hour with his fastball from the seventh inning on, with five pitches over 100 miles-per-hour.
That made it tough to time his offspeed stuff. The Toronto Blue Jays did not hit a ball out of the infield against any of Verlander's 52 offspeed pitches.
Jason Giambi: among oldest players with a 3-HR game (May 19)
Giambi became the oldest player since the mound was lowered in 1969 to hit three home runs in a game (40 years, 161 days). Giambi hit two of his three home runs on 1-1 counts, notable because over the past three seasons hit .343 with 16 home runs in at-bats ending in an early count.
There was a 194 point difference in Giambi's performance in the first three pitches of an at-bat, compared to beyond that. The typical major leaguer had a difference of 116 points last season.
Wilson Valdez gets the Win (May 25)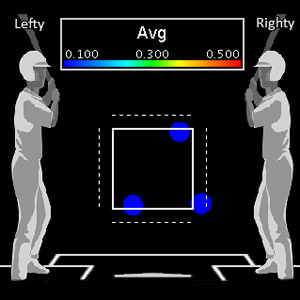 Pitch locations for where Wilson Valdez got his outs
In becoming the first player to start a game as a position player and then earn a win in relief since Babe Ruth in 1921, Valdez got through the 19th inning against the Cincinnati Reds unscathed.
Valdez's nine fastballs were clocked at 87 miles-per-hour (about the same as Freddy Garcia and Shaun Marcum).
When comparing the break and movement, the best comparison to it would probably be the fastball thrown on occasion by New York Mets knuckleball specialist R.A. Dickey.
The image on the right shows the pitch locations where Valdez got outs. All three came on pitches on the edge of the strike zone.
Cliff Lee in June
Lee went 5-0 with an 0.21 ERA in June, one of the best months in major league history.
The success was in large part due to getting fewer swings and more misses on the first pitch from his performance in the first two months. Lee gave up only two hits on the first pitch of an at-bat in June, with an opponents batting average of .154. That was down from .341 in the first two months.
Lee also increased the percentage of first-pitch swings that missed from 20 percent to 31 percent in those time periods.
Derek Jeter's 3,000th hit (July 10)
Jeter's 3,000th hit was a home run to left field against Tampa Bay Rays starter David Price. Entering the game, just 23 percent of Jeter's outfield hits went to left field, a drop of nearly 10 percentage points from two seasons prior.
From that point, to the rest of the season, nearly one-third of Jeter's 85 hits were to right field.
Stephen Strasburg returns (September 6)
On September 6, Strasburg made his return to the big leagues on after missing over a year due to Tommy John surgery throwing five scoreless innings against the Los Angeles Dodgers.
Stephen Strasburg's Fastball
The Dodgers went up hacking against him. Of 17 batters, nine of them swung at the first pitch. The Dodgers also swung at 22 of the 29 pitches Strasburg threw in the zone, his highest rate (76 percent) in a game.
Strasburg's fastball returned to form, averaging 96.2 miles-per-hour, topping out at 98.7.
Mariano Rivera breaks all-time saves record (September 19)
Rivera became the all-time saves leader in MLB history on September 19 by pitching a perfect 9th inning in the Yankees 6-4 win over the Minnesota Twins.
To get the save, Rivera got a groundout from Trevor Plouffe and a line out from Michael Cuddyer before striking out lefty Chris Parmelee with a 93 mile-per-hour cutter away.
Rivera had been struggling in August, but started throwing his pitches (particularly his cutter, which he throws upwards of 90 percent of the time) to the outside corner much more frequently.
He went from throwing one-third of his pitches on the outer-third of the plate and further away in June and July to nearly 50 percent in August and September.
It worked. Rivera converted 17 of 18 save chances in the season's last two months.
AL Wild Card Drama (Rays/Red Sox on September 28)
With the Yankees up 7-0 on the Rays in the seventh inning, the Rays win probability was less than one percent.
With the Red Sox up on the Orioles by a run with two outs and no one on base in the ninth inning, their win probability was 94.3 percent (not to mention that Boston was 76-0 when leading after eight innings entering the day).
At that point, the Rays were in some trouble in extra innings, with the Yankees threatening. At that point, Boston's chance of getting at least a one-game playoff was 99 percent.
But as we saw, 99 percent was not a baseball certainty.
Nelson Cruz vs Inside Pitches
2011 Postseason
Nelson Cruz, ALCS MVP
Cruz was named ALCS MVP after hitting six home runs and driving in 13 runs against the Detroit Tigers.
Cruz did almost of his damage on inside pitches, with five of his six home runs and 11 of his 13 RBI coming on those pitches.
The Cardinals fared considerably better than the Tigers did at pitching Cruz inside. He could not sustain his success into the World Series.
Albert Pujols hits 3 HR in Game 3 of World Series
Pujols became the third player in World Series history to hit three home runs in a game.
Pujols saw 21 pitches in Game 3 and seven were over the middle third (horizontally) of the strike zone, including five fastballs. He took advantage.
Four of Pujols' five hits in the game came against those pitches, including each of the three home runs.