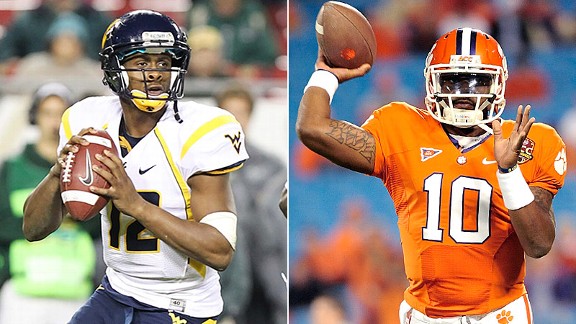 US Presswire, Getty Images
Dynamic quarterbacks Geno Smith (left) and Tajh Boyd (right) meet in the Discover Orange Bowl.
Tonight's Discover Orange Bowl (8:30 ET on ESPN) between No. 23 West Virginia and No. 15 Clemson should continue the trend of strong offensive performances during the bowl season.
West Virginia Offense
Geno Smith broke the West Virginia school record with 3,978 passing yards this season. Smith ranks ninth nationally in total offense and has completed 65 percent of his passes this season.
Geno Smith Throws of 15+ Yards
Since Start of 2010 Season
West Virginia's success hinges on Smith's ability to throw the ball downfield. Since the start of last season, the Mountaineers are 13-0 when he completes at least half of his passes thrown 15-or-more yards downfield.
The Mountaineers offense has transitioned from run-based under Rich Rodriguez to pass-centric under new head coach Dana Holgorsen. From 2005-07, West Virginia ranked in the top four in rushing offense and the bottom 20 in passing offense each season. This year, the Mountaineers are seventh in passing and 98th in rushing.
Clemson Offense
Clemson is led by the dynamic duo of Tajh Boyd and Sammy Watkins. Watkins set ACC freshman records with 77 receptions, 1,153 receiving yards and 11 touchdown receptions. Boyd has thrown for at least three touchdowns seven times this season.
Tajh Boyd Passing in Red Zone
2011 Season
As the Tigers ran out to an 8-0 start, Boyd was great in the red zone, but over the last five games he has struggled to complete passes.
In Clemson's 10 wins, he has thrown 15 touchdowns without an interception. In three losses, Boyd has more interceptions than completions.
Watkins became the second Clemson receiver in the last eight seasons to gain at least 1,000 yards. Over 60 percent of his yards have come after the catch, including two games where he gained over 100 yards after catching passes.
Numbers to Know
Clemson is playing in its first BCS bowl game since the system began in 1998. The last time the Tigers played in the Orange Bowl was in 1982, when they beat the Nebraska Cornhuskers to claim the national championship.
The schools have met once before, with the Tigers beating the Mountaineers 27-7 in the 1989 Gator Bowl. That is Clemson's only win in four games against current Big East members. West Virginia is more familiar with the ACC, posting a 97-97-5 record against current conference members.
With Virginia Tech's Sugar Bowl loss, the ACC has the fewest wins of any automatic qualifying conference in BCS games. The ACC is 2-12 in BCS bowls, and every other AQ conference has at least six wins.
West Virginia has won at least nine games in each of the past seven seasons. During that stretch, the Mountaineers are 2-0 in BCS bowl games, beating the Georgia Bulldogs in the 2006 Sugar Bowl and the Oklahoma Sooners in the 2008 Fiesta Bowl.