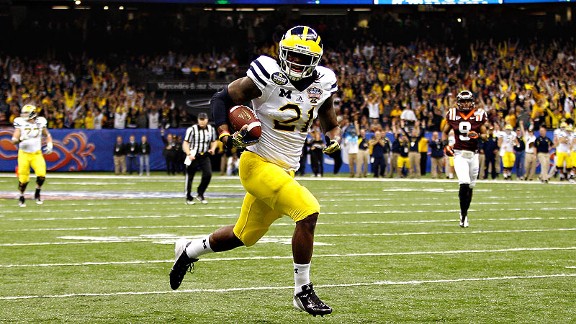 Chris Graythen/Getty Images
Junior Hemingway, who scored two touchdowns, was the only Michigan player to find much open space on offense in the Sugar Bowl.
Playing in its first BCS bowl game since the 2006 season, the Michigan Wolverines kicked a field goal in overtime to claim their first BCS win since the 2000 Orange Bowl. It was the eighth bowl game decided by three points or fewer this season and the first time that two BCS games have gone to overtime in the same season.
Special-teams play has been a strength for the Virginia Tech Hokies under Frank Beamer, but a series of special-teams miscues was the difference in the game. Michigan picked up 16 points on special teams against the Hokies.
Michigan scored its first touchdown on a drive that was extended by a roughing the punter penalty. Virginia Tech fumbled twice, once on a kickoff return and once on a fake punt, with each leading to a field goal for the Wolverines. After making four field goals in regulation, third-string kicker Justin Myer missed a 37-yard attempt in overtime.
Fewest Yards Gained in a Bowl Win
Since 2004 Season
That helped the Wolverines win a game where they were outgained by nearly 200 yards and Denard Robinson completed only two passes after halftime. Michigan's 184 yards were the lowest for the school since a 2007 loss to Ohio State. The last team to win a bowl game when gaining less than 200 yards was Mississippi State, which beat UCF 10-3 in the 2007 Liberty Bowl.
Denard Robinson was held to 117 passing yards and 13 rushing yards. It was the first time in three seasons that Robinson ran for less than 20 yards when he had at least 10 carries. The 130 yards of total offense was his second lowest output in the last two years, and the only time he has been held below 200 yards when he was involved in 30 or more plays.
Denard Robinson on Throws of 15+ Yards
2012 Sugar Bowl
Robinson was able to connect with Junior Hemingway for two touchdowns on throws of 15-plus yards. Those were Michigan's only two touchdowns and Robinson's only completions on nine throws downfield.
The Hokies loss continues recent trends for the school and the conference. Virginia Tech was the first ACC at-large selection to a BCS bowl game, and with the Sugar Bowl loss the ACC falls to 2-12 in BCS games. Frank Beamer and the Hokies have been to six BCS games, but were only able to win the 2009 Orange Bowl.
David Wilson broke the Virginia Tech single-season rushing record with 1,709 yards but was held without a touchdown for the eighth time in 14 games this season.